Cyberpunk 2077 PS4 review: CDPR's vision is heavily compromised on old consoles
Equal parts stunning and terrible mess, for every wonder on PS4 there are a handful of frustrations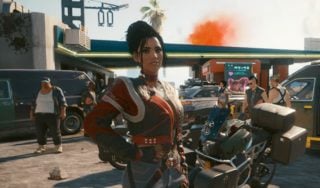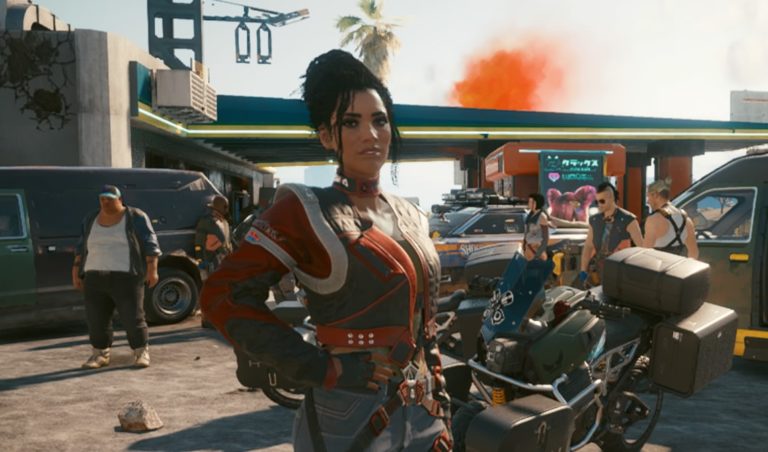 We've seen things you people wouldn't believe. A city that stutters, freezes and builds itself before our eyes. We watched a man leap to his death from a skyscraper then vanish into thin air. All those moments lost in time, like our last few minutes progress from a crash to the dashboard.
Welcome to Night City, PS4 style.
You've probably read our review of Cyberpunk 2077 on PC. You've also probably heard that the last generation console versions are heavily compromised in comparison. So how bad are they? Well, on a base PS4, the problems with Cyberpunk 2077 go deeper than some bugs. A multitude of performance issues seeps into the experience at every level, shattering immersion or getting in the way of you doing what you're supposed to.
The general low-grade performance is most noticeable whenever you step out from one of 2077's seedy buildings into searing daylight on the street. It takes a few seconds for the engine to adjust, putting its textures in place and gearing up to shift around all that virtual real estate. As you walk, something's always changing abruptly – lighting, textures, the skyline. Start driving or enter a busy area like a market and the jolts and judders return.
The issue here isn't just a lack of smoothness. It affects the sense of scale and atmosphere in what's meant to be a dystopian metropolis. PS4's Night City is strangely quiet, with a handful of pedestrians and the lightest sprinkling of traffic, going about their business with a sense of drone-like tranquillity. Everything feels a little dead.
Sometimes you tune it out – it's just background. But other times this lifeless air seeps into your interaction with the world. Park your car in the road and other vehicles stop dead behind it, unable to navigate around. After a shootout and pedestrians will statically cower in fear for a few minutes. A civilian might materialise right behind you just in time for you to run him over, causing local cops to instantly attack.
It all feels so fragile, like one wrong move could bring the whole façade tumbling down. And every now and then it does, with a resounding crash.
Worse than the crashes though (about 10 in our playthrough) is a slow build-up of minor errors that force you to reload your last save point, from visual impairments to unexplainable deaths.
"The issue here isn't just a lack of smoothness. It affects the sense of scale and atmosphere in what's meant to be a dystopian metropolis. PS4's Night City is strangely quiet"
They're especially gruelling because you can't rely on the reload bringing everything back as it was when you saved it. Guards might be at different points in their patrols, perhaps looking right at your position. One mission reloaded us in the driver's seat of a car, rather than the passenger side, inside the NPC who was driving.
Bugs infest the PC version too, but not as many, not as regularly, and without other performance-linked annoyances that directly interfere with progress.
The tiny things stack up, like having to press a button twice to get a response, the hacking menu refusing to show when you're being attacked, doors appearing locked because what's behind them hasn't loaded in yet, or losing the tracking icon you've placed on an enemy. Whether you're stalking through a gang hideout, taking part in a street race or simply getting from A to B, things just keep going wrong.
Yet with all that, there are still plenty of points where Cyberpunk 2077 demonstrates its underlying quality, as an open-world RPG that in some respects pushes the genre to new heights.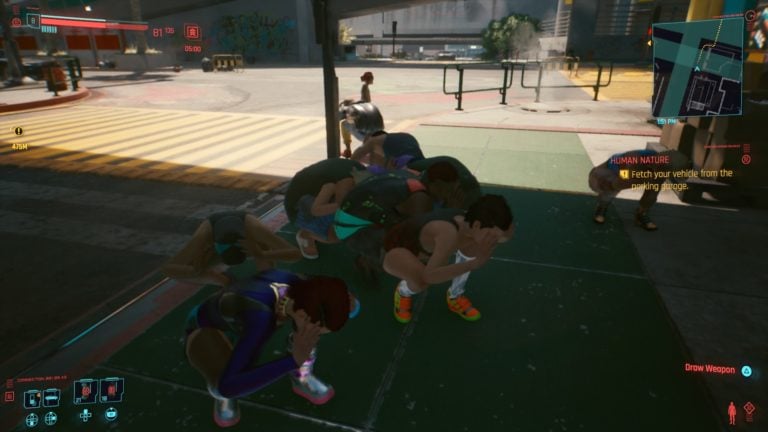 Many of these problems are after all the product of over-ambition. Even on PS4, when it's not running as planned, it's still possible to appreciate how polished Cyberpunk 2077 is in its design and artistry. Its writing, mission design and RPG systems can pull you into Night City as strongly as the technical faults throw you out of it.
Unsurprisingly, many of the most memorable scenes are tightly scripted ones, when you aren't given room to do anything unexpected, such as on-rails action sequences or the brilliant virtual reality 'brain dance' investigations. What is surprising is that the most compelling activity is often something as ordinary as sitting down and talking to someone.
2077 has some fascinating characters, supported by expressive body language, detail-oriented scripting and sharp voice overs. More impressive though is how the game locks your attention with its first-person perspective and tailored dialogue options.
Having you sit in place close to your interlocutor creates a sense of intimacy that few games can muster. And even when your choices don't significantly alter the outcome of a chat, stat and background based options help stamp your V's personality on proceedings.
"There are still plenty of points where Cyberpunk 2077 demonstrates its underlying quality, as an open-world RPG that in some respects pushes the genre to new heights."
Open-ended infiltration and combat scenes can really deliver too, despite some initial confusion (because the game doesn't explain things very well). Whether you're sneaking around, hacking into security systems to scope out a facility, or taking gangs and guards on directly, there's great potential to execute a range of plans and smartly improvise your way through situations.
V starts off pretty weedy, but develops fast, and it's amazing what you can eventually achieve with the pile of weapons, cyber-mods and perks available.
It also shouldn't be ignored that in terms of its architecture and décor Night City remains an extraordinary feat. It may look a little rough, but take time to see the sights and you have to marvel at the richness and variety on show. Some indoor locations especially, such as the Afterlife bar, are packed with detail and manage to invoke the grimy punkish atmosphere missing elsewhere.
Does this mean we would recommend Cyberpunk 2077 on PS4 right now? Not really. CDPR put it out too soon and shouldn't have kept console formats back from early reviews.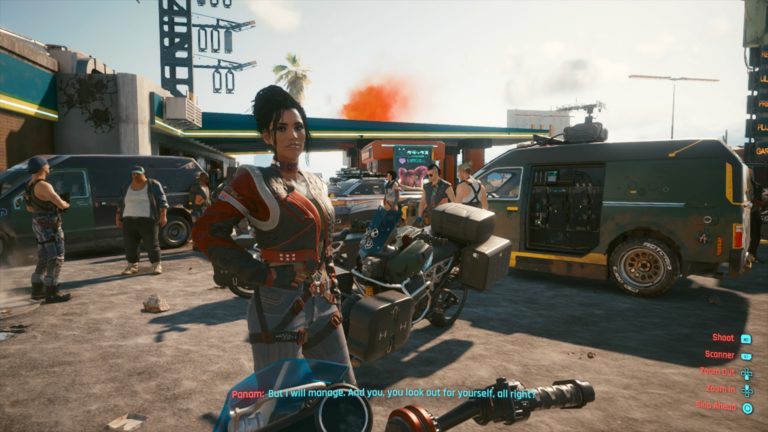 There's now the depressing possibility that staff will have to crunch even longer to quickly bring the game up to standard. It's hard to deny that, in producing a game about cyberpunk, CDPR the company has put itself in the role of the exploitative mega-corp.
The question is what can realistically be expected of the PS4 and Xbox One versions of Cyberpunk 2077 going forward. CDPR has promised major updates in January and February, and we hope that's enough to really let the game's achievements shine through.
It won't, can't, ever have the speed or atmosphere of the PC version. But if it can at least get to a stage where everything functions reliably and runs at a decent rate, like on PS4 Pro or PlayStation 5 via backwards compatibility, that will make a big difference.
What isn't lost even on this early version is that Cyberpunk 2077 sets new benchmarks for action RPGs that others will have to follow. Let's hope they don't follow the wrong example and think it's acceptable to release their games in a similar state.
Equal parts stunning achievement and terrible mess, for every wonder in Cyberpunk 2077 on PS4 there's a handful of frustrations. Performance issues affect not just how the game looks, but how it plays and feels, constantly taking bites out of what would otherwise be an impressive and exhilarating experience.
Some nuanced, sympathetic characters
Varied and exciting missions
Flexible RPG systems
Poor performance constantly slows progress
Lack of atmosphere, especially in outdoor locations
3 / 5
Version tested
PlayStation 4
Related Products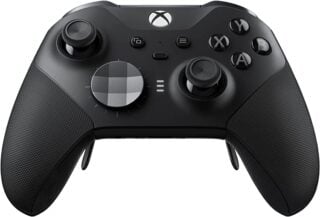 Xbox Elite Series 2 Wireless Controller
Other Products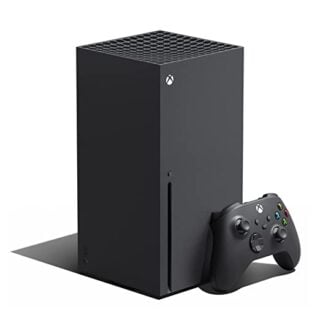 Xbox Series X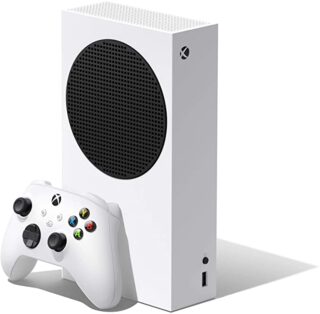 Xbox Series S
Some external links on this page are affiliate links, if you click on our affiliate links and make a purchase we might receive a commission.