Crash Team Racing Nitro-Fueled
Activision's impressive remake deserves its place on the podium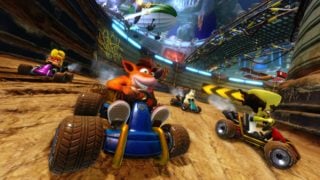 This surprisingly lavish remake of Naughty Dog's 1999 kart racer certainly lives up to its titular suffix. You can almost feel the frames of these karts buckling, the nuts and bolts about to rattle loose, every time you trigger a turbo boost.
Like sticking a V12 engine into a Fiesta, it feels like too much power in too small a frame, as your kart's front wheels lift off the ground, its occupier clinging tighter to the wheel in tandem with your own grip on the controller. Even down to the post-race victory lap, wind visibly whipping through digital fur, Nitro Fueled captures a tangible sensation of barely-controlled speed. Like Crash himself, it's a bundle of boisterous energy – noisy and slightly hyperactive, but oddly endearing all the same.
For Beenox – a support team thrust, perhaps unexpectedly, into the spotlight – Nitro Fueled represents a chance to show what it can do, and the studio grasps it with both hands. To break it down to raw facts and figures: this is essentially Crash Team Racing in its entirety, plus 13 tracks from Vicarious Visions' 2003 follow-up Crash Nitro Kart, with online multiplayer and fully customisable karts to boot.
The original Adventure mode comes with a clutch of new cutscenes, and now allows you to switch characters and vehicles at will, rather than sticking with your first choice – though the old-school approach is still available if you're keen to recapture 20-year-old memories. And there's more: you can spend coins you earn from each race on skins and carts taken from 2005's Crash Tag Team Racing. It's nothing if not comprehensive.
Not all of these embellishments amount to a great deal. In Adventure mode, you'll drive around a series of hubs, each offering an initial selection of two races, which you'll need to win to unlock the third and fourth before racing the area's boss to unlock them and their kart before moving onto the next. In practice, all this does is add some extra downtime between races, as well as a strangely fussy extra mode where you must collect thin purple gems dotted around the hub area within an exacting time limit.
Those boss races are similarly underwhelming. Each has a signature power-up that they can deploy infinitely – which proves deeply annoying when wheedling wiseguy Pinstripe gets ahead on a narrow straight and repeatedly bowls you over with successive bombs – though once you're in the lead a win is all but a formality.
Once you've completed a track (and a podium finish isn't good enough; you need to win) you can return to take part in an entertainingly challenging Relic Race, where you'll collect numbered crates to stop the clock for a given number of seconds, strategically saving some for subsequent laps. Alternatively, there's CTR Challenge, which is just a standard race where you need to pick up three letters placed in increasingly awkward positions. The best we can say about the mediocre cinematics, meanwhile, is that they have the good grace to be short.
"For Beenox – a support team thrust, perhaps unexpectedly, into the spotlight – Nitro Fueled represents a chance to show what it can do, and the studio grasps it with both hands."
If the structure of Adventure mode leaves something to be desired, Nitro-Fueled gets the big stuff right. The karts feel lightweight and slightly twitchy at first, while there's little to compare with Mario Kart 8's dizzying anti-gravity sections. Yet races are always lively, the AI is competitive, and in the main, the tracks are very well designed.
One minute you're power sliding around right-angled corners on a sun-kissed pyramid, the next you're skidding through mud and launching off ramps inside and around a rain-lashed temple. You'll boost clear of the huge toxic barrels rolling left and right across Sewer Speedway and swerve between Hyper Spaceway's scything lasers. Crash himself, tongue lolling, kicking his left leg out as he crests a ramp, constantly looks like he's having a good time. You'll know how he feels.
The roster may be a motley bunch of weirdos and mutants, but the stages are often quite beautiful. Coco Park is like a prettier version of Mario Kart's Royal Raceway, all scattered cherry blossom and rainbows, while it's tempting to slam on the brakes to take in the saturated magic-hour cloudscapes of Hot Air Skyway.
Though not always as enjoyable in pure racing terms, a few of the Nitro Kart tracks fare especially well here: meteors streak through the night sky on Inferno Island, with purple and orange flora glowing beneath a grinning blue moon. And Out Of Time is a real jaw-dropper, with fragments of stained glass frozen impossibly in mid-air and giant alien vines corkscrewing overhead.
The audio doesn't quite match the visuals, though there's a wonderful moment when you emerge from the glass orb covering Oxide Station and find yourself sailing through space, the volume dropping to near-silence for a second or so. And the sound that plays when you release a flask or a bomb could have been lifted from a Hanna Barbera cartoon; it's oddly perfect.
"Assuming the online game holds up as well as the local multiplayer, Crash Team Racing Nitro-Fueled is just about as complete a remake as you could hope for"
You could almost say the same for Nitro-Fueled's weapons in general which, dare we say, feel a little fairer than Mario Kart's selection – no blue shells here. Even heat-seeking missiles can be blocked, while you can hop repeatedly to shake off a TNT crate before it blows – or else drive close enough to a rival for the explosion to take them out, too. And the bowling bomb, which can be detonated at any time once thrown, is a real joy, with a punchy impact that sends victims tumbling tail over teakettle.
Nitro-Fueled's power-sliding mechanic is another ace up its sleeve, though it's something of a double-edged sword. Karts turn sharply enough that it's only necessary on the tightest of corners, but it can give you a real advantage if mastered. That's a big 'if', mind: the process is more involved than any other kart racer, requiring you to turn while hopping with one shoulder button, then pressing the other before your boost meter fills completely.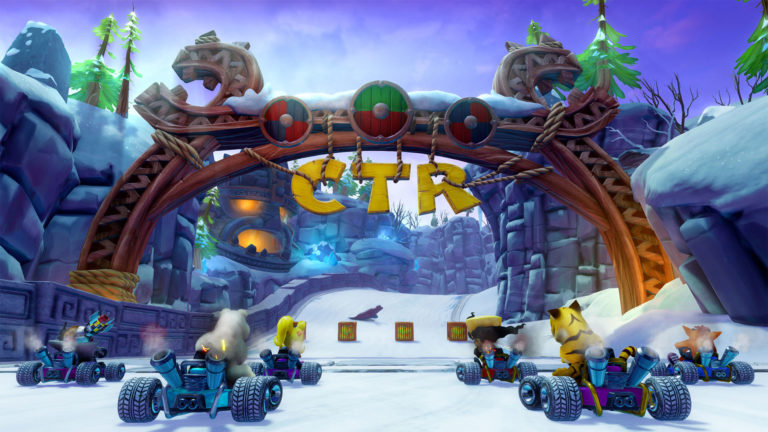 You can repeat this twice more, with the third providing a more powerful boost still, though with the added risk of spinning out if you sustain the slide for too long. It's satisfying to nail, yet it doesn't seem wholly reliable, even once you've got the timing down. On the bumpier tracks in particular, you might find you need to restart the slide before it'll trigger successfully.
It's not quite as robust as Mario Kart overall, then, though some will no doubt prefer it's more lightweight, knockabout feel. It undoubtedly adds something to the wonderfully rambunctious chaos of battle mode – which boasts 12 arenas and five self-explanatory modes, ranging from Capture The Flag to Last Kart Driving.
It comes with a broad range of options, too, letting you adjust everything from the time limit to the number of AI competitors and their difficulty level to disabling individual power-ups. You can even change the look of the Nitro gauge if you wish.
Assuming the online game holds up as well as the local multiplayer (we'll update this review if retail servers introduce any new issues) Crash Team Racing Nitro-Fueled is just about as complete a remake as you could hope for. And if it isn't quite the Mario Kart-beater the original was hailed as on release, it's closer than even the most vocal Nintendo fan would dare admit.
Comfortably the best kart racer on PS4 and Xbox One, and earning a creditable second place on Switch, this is a seriously impressive calling card for its unsung makers.
An excellent update of a fine but dated original, Nitro-Fueled fully deserves its place on the podium of kart racers
A gorgeous, characterful visual overhaul
Stuffed with modes, characters and options
Bright, bouncy and well-balanced racing
Unique powersliding mechanic adds depth to drifting...
...though it's imperfectly implemented. New cutscenes add nothing
4 / 5
Version tested
PlayStation 4
Related Products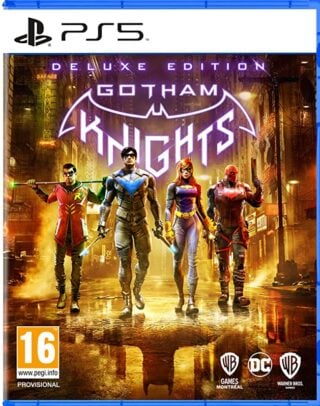 Gotham Knights - Deluxe Edition (PS5)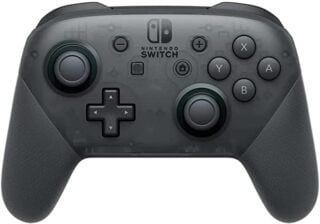 Nintendo Switch Wireless Pro Controller
Other Products
Some external links on this page are affiliate links, if you click on our affiliate links and make a purchase we might receive a commission.