Review: Bubble Bobble 4 Friends has charm but little value
A much-loved series makes a comeback, but at what cost?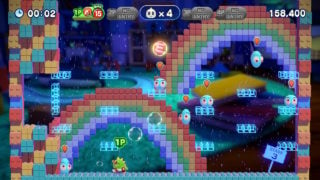 There hasn't been a new Bubble Bobble game for quite some time, so the arrival of this brand new entry for Nintendo Switch is most welcome.
What's less welcome is its price tag, which puts pressure on the game to deliver a deeper experience than Bubble Bobble is usually known for. While it's undoubtedly a lovely game, it fails to meet this expectation.
Bubble Bobble 4 Friends opens with a basic but charming enough CGI intro in a child's bedroom (presumably a rich child, because they have an original Bubble Bobble arcade machine). While the child sleeps, his Bubble Bobble plush toys magically come to life.
Jealous of how much the child loves their Bub toy, the plush of Bonner (a long-time villain in the series, armed with a magic staff) decides to challenge Bub to a battle. Cue 100 stages of platforming goodness, then, for seemingly no better reason than 'just because'.
The game's main mode consists of five worlds, with 10 stages in each (including a boss battle at the end). Beat these five worlds – with unlimited continues it should only take you around an hour – and you'll unlock Hard mode, which adds more enemies and tweaks the stage designs enough that they can legitimately claim to count as new levels, bringing the total to 100.
Bubble Bobble fans should immediately feel at home with the game's central mechanics, which haven't changed from the arcade original. Players defeat enemies by spitting bubbles at them to enclose them inside, then bursting the bubble by ploughing into it. Defeat all the enemies on a stage and you move onto the next one.
Adding depth is the new rating system: clear a world and you're given a rating of up to three stars depending on your score. By collecting the needlessly massive fruit bonuses that appear for a limited time at the end of each stage, and finishing the 10-stage run without having to continue, you'll make a three-star rating more likely.
"Level design is frequently appealing, with little references to other Taito properties like Space Invaders dotted around here and there, and a puzzle element is introduced later on with air flows affecting the direction of your bubbles."
Clearing a world will also unlock one of five new skills, ranging from the ability to fire bubbles farther, to the ability to dash through enemies to avoid damage. Players choose one ability to equip before taking on a world, and while abilities can only be used a limited number of times per run they can make all the difference when going for a high score. You can also try to collect the E-X-T-E-N-D letters spread out throughout each 10-level run, which increases the number of uses you get for that world's skill.
The star-based rating system and the new skills feature encourage multiple playthroughs, as you experiment with different skills to see which can help you push your score past the milestones you need to hit for a three-star rating. They're not only welcome, they're more or less essential: if you're the sort of player who's only interested in seeing the end credits you're really not going to be playing for long.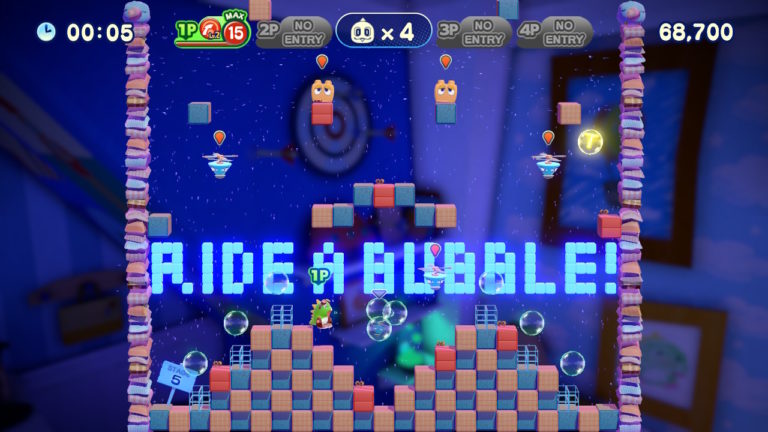 Instead, this is a game that wants you to keep going back and trying each world multiple times, perfecting it until you three-star it. This can be a fairly repetitive process in later worlds, though thankfully you don't have to do it alone: the game can be played with up to four players – with Bub and Bob joined by their girlfriends Peb and Pab – adding enough unpredictability to keep things entertaining.
Rounding the package off is the complete arcade version of Bubble Bobble, which is included as a bonus and available from the start. Emulation is rock solid and the ability to insert coins at will means overcoming its 100 stages is certainly more possible than it was back in the day.
Bubble Bobble 4 Friends is a charming game, and we'd be lying if we said we didn't have a big smile on our face as we played through its 100 stages. Level design is frequently appealing, with little references to other Taito properties like Space Invaders dotted around here and there, and a puzzle element is introduced later on with air flows affecting the direction of your bubbles.
It's a fun way to spend an hour or two, then, but that brings us to the price. At £35.99 in the UK this is being priced as a relatively premium product, and as entertaining as it is you're likely to struggle to get that much value out of it, especially if you're playing solo. At half the price we'd have no problem recommending it: as it is, it's only really suitable for Bubble Bobble die-hards who are happy playing its 2-3 hours of content multiple times.
A charming and entertaining resurrection for a much-loved retro series, with a fun multiplayer mode and clever level design. It's a very short adventure, though, which makes its premium price point difficult to justify.
That classic Bubble Bobble gameplay is as compelling as ever
Beautiful music and a striking visual design
The inclusion of the arcade original is a nice bonus
Its 100 stages are over in a couple of hours
Far too expensive for what's on offer here
3 / 5
Version tested
Nintendo Switch
Related Products
Other Products
Some external links on this page are affiliate links, if you click on our affiliate links and make a purchase we might receive a commission.