Review: Bayonetta Origins is an uneven adventure with just enough Platinum punch
If you go down to the woods today, you're in for a big surprise…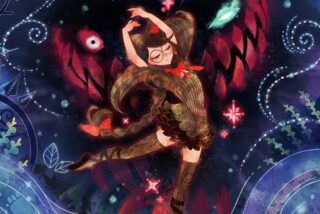 Bayonetta Origins: Cereza and the Lost Demon hinges on the unknowable. What lies at the heart of the enchanted woods young Cereza finds herself in? Why is a mysterious white wolf guiding her? Will she make peace with her snarling demon aide? But the mystery we can't get over is this: who exactly is Bayonetta Origins for?
On one hand, this is a continued expansion of what feels like a Bayonetta Gaming Universe, a creation willed into life in the multiversal Bayonetta 3 and now deepened with a tale that fills in the gaps around one of that game's more baffling alt-reality variants. Paired with the basic legwork of an origins story – showing us how a young witch bound her first demon and mastered her gyrating combat style – it feels laser targeted at the most engaged Umbra-head.
But on the flip side is the game itself: an often twee adventure set in a playable picture book that softens the usually hard-edged combat and slows the relentless pacing to something resembling Platinum's first child-friendly game. Paired with a generous selection of empowering potions and an impressive suite of accessibility options to further simplify the fights, it unfolds as an action game anyone can play, set in a slice of lore that only a few are likely to fully appreciate.
But if Origins pulls in two directions, and makes it an unusual sell, it somehow emerges from those tangled woods unscathed. In fact, it sees Platinum stretching long dormant muscles. With ability-driven exploration and light puzzling it has more in common with Okami, that great Zelda-ish masterpiece from the studio's Capcom precursor, Clover. Difference is, you control two heroes simultaneously: Cereza on the left Joy-Con, her demon Cheshire on the right. It's one person co-op, in the vein of Brothers: A Tale of Two Sons.
Plenty to unpack, sure, but Origins carefully doles out powers so as not to overwhelm. Parallel steering is taught in unhurried gambols through gentle terrain, before antagonistic fairies teach the basic principle of combat: Cereza tangles enemies up and Cheshire claws them down. That rock solid foundation layers with nuance over the next ten hours – by the end Cheshire uses all kinds of magics to pry open elemental weaknesses in imp defences – but it never loses sight of that basic one-two punch.
If anything, it does such a good job of settling you into the paired dynamic that you wish it pushed the duo a bit harder outside of combat. By the game's final fights, you're having to steer Cereza around all kinds of telegraphed nastiness while also dishing out demonic beatdowns.
Strong puzzles are rarer, consigned to Tír na nÓg dungeons which often split the pair apart and force work in tandem. Extinguishing flames in Cereza's path while she simultaneously manifests platforms beneath Cheshire, all under the pressure of a looming wall of death, is the kind of rub your tummy/pat your head finger gymnastics that, disappointingly, just don't occur enough in the main adventure path.
Instead, the forest presents a tangle of routes to slowly unknot with a growing collection of grapple hooks, water squirts and ground pounds. A few powers bring the action to life – water-propelled lily pads transform witch-drowning pools into expanses ripe with hidden potential – but others, like Chesire's fireballs, act as unimaginative keys to standard elemental obstacles.
It doesn't help that as Origins' focus shifts to backtracking, you become more reliant on a deeply unhelpful map. Regions are sketched too generally to offer clear guidance, with sudden camera shifts making it difficult to get a grip on the shape and flow of certain areas.
"The Tír na nÓg realm is particularly striking on Switch OLED, where the crisp blues really pop and the shocking exit animation reminds you of the stylish excess of the Bayonetta series."
A fast travel system, and helpful paw print markers, mean you'll never lose the thread of the main quest, but mopping up character upgrades and hidden wisps feels like an exercise in trying every dead end until you get lucky, rather than an empowered romp over old ground.
It's a shame, as the world itself is a triumph of art design, its dreamy watercolours clashing impressively with the jagged glass shards of the fairy domain. The Tír na nÓg realm is particularly striking on Switch OLED, where the crisp blues really pop and the shocking exit animation – a giant eyeball spewing forth a torrent of blood – reminds you of the stylish excess of the Bayonetta series.
And that's key to Origins; for its uneven adventuring, it's never less than beautifully made. I don't think Platinum know how to ship a game with unsatisfying attacks – when it kicks off, Origins pairs Cheshire's chomping jaws with oh-so-satisfying bursts of syrupy slow-mo – and you're never far from characterful boss battles to offer a pick-me-up. Special shout out, too, for a soundtrack that blends demonic circus chaos with a mellow fantasy, while honouring the original trilogy in some unexpected ways.
In fact, in its final hours Origins does finally live up to its name, with juicier fan service and unexpected developments that put a Cheshire-like grin on this fan's face. And, upon completion, revealed the same generous spirit you expect from the mainline games. But those are your surprises to discover. And if you aren't already the witch's acolyte? This might be the ideal gateway drug to Platinum's more substantial work.
Bayonetta Origins sometimes feels like an idea half explored. In combat two sets of fists are better than one, but adventuring never ignites in the same way. There's a level of invention and style we've come to expect from the studio, but this isn't quite Pure Platinum.
A punchy take on collaborative combat
Often gorgeous world, especially on Switch OLED
Plenty of nerdy nods for the long term fans
Clumsy map dents the pleasure of treasure hunting
Puzzles rarely make the most of the dual heroes
Bayonetta fans might bounce off the twee framing
3 / 5
Version tested
Nintendo Switch
Related Products
Other Products
Some external links on this page are affiliate links, if you click on our affiliate links and make a purchase we might receive a commission.