Atari VCS review: Atari's first console in 28 years is all style, no substance
The crowdfunded VCS revival is sorely lacking in killer features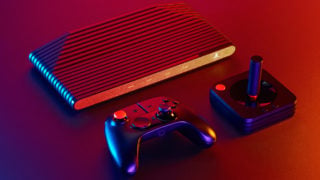 It could be argued that no brand in gaming has seen such extreme highs and lows as Atari.
After all, no other name has been both credited for the birth of gaming in the west, and also blamed for its near demise.
Once thought to be the leading name in video games during the medium's early days, Atari's VCS console (later renamed the 2600) was an enormous success in America, but a slew of poor ports and shoddy third-party games meant the system was also mainly responsible for the North American video game crash in 1983.
---
UPDATE: The Atari VCS console will release on June 15, 2021 in the United States, the company has confirmed.
---
Atari VCS info
• Release date - Spring 2021
• Price - $299 or $399 with two controllers
• Classic Joystick - $60
• Modern Controller - $60
• Pre-order - Atari site
Atari never really recovered from this and found itself releasing a series of also-ran systems throughout the late '80s and early '90s. The Atari 5200 and 7800 were never anywhere near as popular as the VCS/2600. The Atari Lynx was a distant third to the Game Boy and Game Gear. The Atari ST had its fans, but the Commodore Amiga always cast a huge shadow over it. And the less said about the Atari Jaguar, the better.
Since then, the brand has changed hands a number of times over the years, with nobody really sure what to do with it. It's now in the hands of French holding company Atari SA (formerly Infogrames) and is attempting another resurgence, but once again it's not really clear where its main focus lies.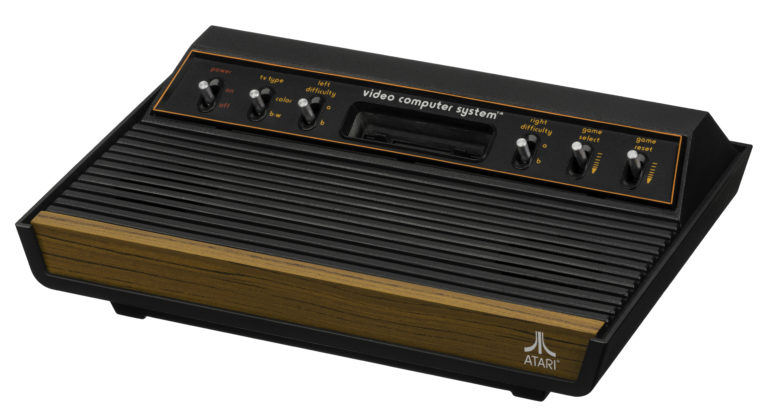 It's making mobile games. It's getting involved in blockchain. It's even planning eight futuristic gaming hotels. For a company that, seven years ago, had just emerged from bankruptcy and had a staff of just 10 people, it's taking on some fairly ambitious projects.
One of these is a brand new console, the first to be branded with the Atari name since the ill-fated Jaguar launched 28 years ago. The Atari VCS is a $299 system named after the legendary 1977 console that gave the company its stratospheric success all those years ago, and Atari is undoubtedly hoping some of that success will rub off on this new device.
The new VCS was first available via an Indiegogo campaign, with around 11,000 backers having recently received their consoles, and Atari's official site is currently taking preorders for a public "Spring 2021" release.
Like the company itself, though, it's difficult to tell exactly what the VCS is trying to accomplish. Ever since the system was announced in 2017 people have been trying to figure out exactly what it is, and now that we have it in our hands we still haven't quite reached a conclusion.
Atari VCS Review: The hardware
One thing we have at least decided is that the new VCS is a stylish piece of kit. Its ridged design gives it a similar vibe to the original '70s console, and the first 6,000 Indiegogo backers also got a real teakwood finish just like the first VCS had all those decades ago.
The version we reviewed is the 'Onyx' model, which comes with a completely black front panel and a red back panel. Despite the lack of wooden finish it's still an attractive system, especially when you turn it on and that iconic 'Fuji' Atari symbol on the front glows white.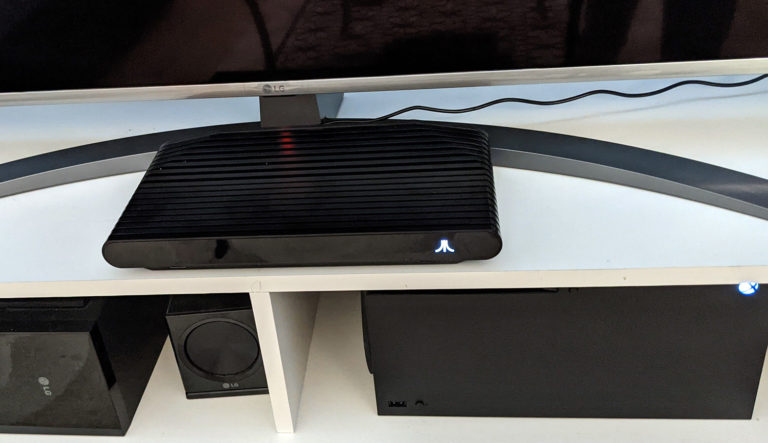 The console's innards consist of an AMD Ryzen embedded R1606G system-on-a-chip, with a Radeon Vega GPU: certainly, nothing to give Microsoft or Sony anything to worry about, but as a modern X86 PC processor it's no slouch either. AMD claims the SOC has enough power to be able to decode and run 4K videos at 60 frames per second, but so far the VCS has yet to prove itself capable of this, for reasons that we'll get into.
Its 8GB of DDR4 RAM is fine, but there's only 32GB of storage. This can be expanded via USB, but you may not need to worry about that right away because the game store is currently small in terms of both the number games available and their general size.
The VCS has two official controllers, both manufactured by peripheral company PowerA, though neither of them are included with the console. The Classic Joystick is designed to look like a modern version of the vintage Atari VCS joystick, with the added bonus of a built-in paddle dial function that's activated by turning the stick between your thumb and fingers. With only two buttons, though, its uses are limited.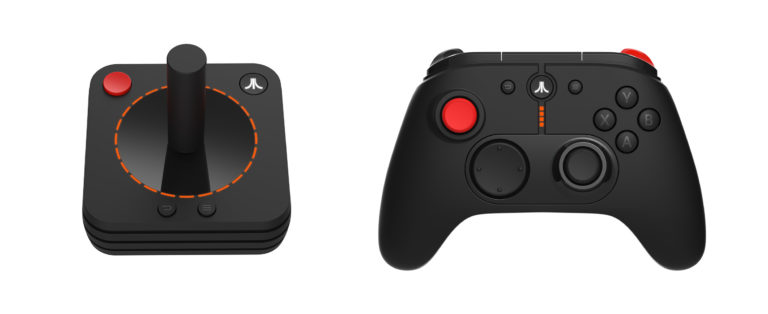 Far more appealing is the Modern Controller, which is a fairly shameless recreation of an Xbox controller, right down to the shoulder buttons, triggers, stick placement and the use of a button with three lines on it instead of a Start button.
Since neither of these controllers are included as standard and each will set you back $60, you may be relieved to hear that the VCS supports a wide range of other controllers, including those for the Xbox 360, Xbox One, PS3, PS4 and even the Xbox Series X/S and PS5.
Considering the Modern Controller offers nothing new, there's really no need to fork out the extra money if you already have a compatible controller in the house. That said, if you do decide to buy one, it also works as a PC or Android controller.
Atari VCS Review: Front end and apps
Boot up the VCS and you'll be presented with a rather pleasant animation paying tribute to Asteroids. After an extremely lengthy initial setup which consisted of more than 20 minutes of updates and reboots we were finally able to create a profile and choose from a selection of avatars spanning Atari's history. Despite trying our best not to cast aspersions on the VCS from the getgo, we opted for the Jaguar logo.
Eventually, you'll be taken to the console's main menu, a series of boxes that feels like an HD reimagining of the Wii's famous Channel Menu. You can choose to view only games, only apps or everything together.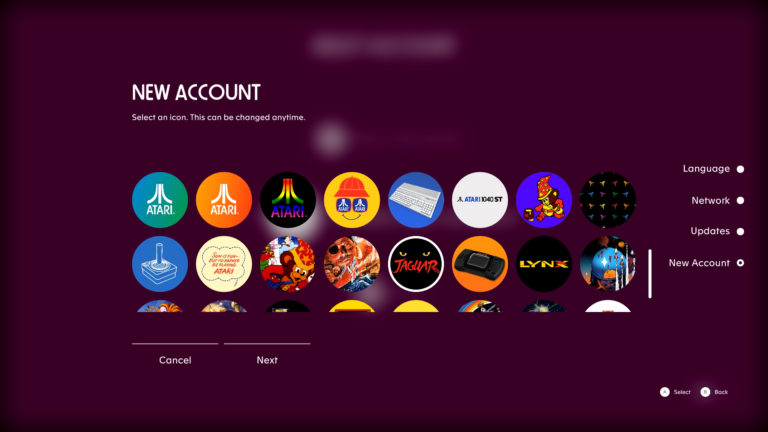 The console will then start to automatically download and update the four base apps included as standard: Atari VCS Companion, Chrome, Atari VCS Vault and Antstream Arcade.
The VCS Companion is simply a single information page with a QR code that links you to your mobile device's app store of choice, where you can download the official VCS Companion app.
This is a surprisingly nifty little tool that lets you control the console with your phone. There are two modes in the app, a directional controller with an A and B button (designed for menu navigation), and a touch panel with a full keyboard underneath it.
The latter is particularly useful for the console's built-in Chrome browser, which is impressively stable and works perfectly well when used with either the companion app or your own PC USB keyboard and mouse.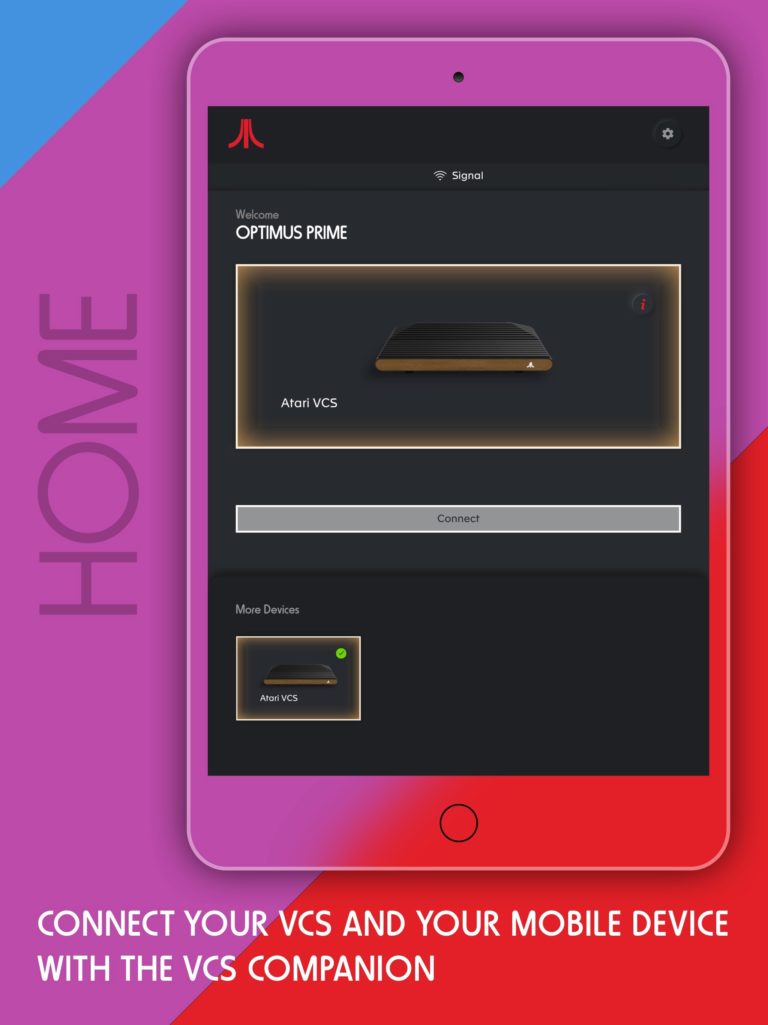 Chrome is one of the more interesting features of the VCS, in that it theoretically gives your TV a PC-quality web browser, as opposed to some of the watered-down browsers you get with consoles or TV's built-in operating systems. We were able to get some browser-only streaming services (such as Arrow Video) working perfectly on our TV, something we've previously struggled to manage with an Xbox Series X and a modern LG TV's built-in browser.
Other apps available in the VCS's built-in store are significantly more disappointing. Although the likes of Netflix, Disney+, HBO Max and Twitch are available for download, in reality these are just glorified Chrome bookmarks and still require you to move a cursor around with either the companion app or a mouse.
The VCS's settings let you output the display at either 1080p or 4K (if your display supports it). At the time of writing, we'd strongly advise against doing the latter: as soon as you switch to 4K the main menu becomes horribly laggy and unresponsive, and everything feels like it's wading through treacle.
What's worse, using Chrome in 4K is near-impossible, unless you have a pair of binoculars handy, because pages don't automatically scale to fit the display and so the text is miniscule unless you keep zooming it manually. Try to run a 4K video on YouTube via Chrome and the system will struggle massively: the fans will kick in extra loud and the picture will keep freezing every couple of seconds.
A user on the Atari Age forum claims they contacted Atari support about this and were told that the fault lied with AMD, who had yet to provide hardware acceleration. Whether this is true remains to be seen, but it would go some way to explaining why the system Atari was trumpeting as 4K capable is so underwhelming (to put it politely) at that resolution.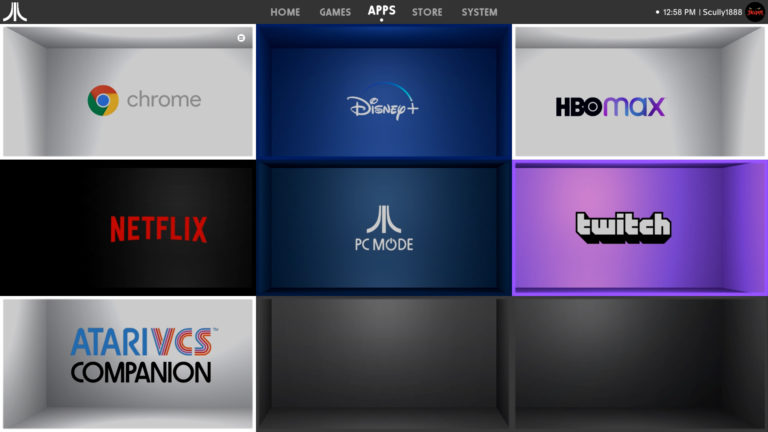 Media apps are just glorified Chrome bookmarks.
The other major feature of the VCS is PC Mode. This lets you install and boot Windows, Linux, ChromeOS or SteamOS from a USB stick, essentially turning the console into a computer.
We tried this with Windows and it eventually booted fine, but getting everything initially set up was quite a lengthy process and we're not sure how many people will actually take the time to, for example, create a Windows 10 boot drive.
When you do get it up and running it works about as well as a low-to-mid powered PC should, especially once you plug in a mouse and keyboard. We plugged in an external USB hard drive and used it to play some Steam games and RetroArch: you should be happy enough as long as you're realistic and aren't expecting to be able to play Cyberpunk on your $299 system (because, as we all know by now, that doesn't work out too well).
Atari VCS Review: The games
Ultimately, apps and PC functionality are all well and good but Atari has always been a gaming brand, and it's in this area where the VCS is perhaps the most disappointing at this stage.
The console comes with Atari VCS Vault built-in. This boasts 100 retro Atari games, but be warned: that means 18 arcade games and 82 Atari 2600 games, many of which are so incredibly basic that they really don't hold up to the mildest scrutiny in 2021.
Nostalgia can be a powerful thing but while there are some games here that do still hold up (like the arcade version of Crystal Castles), not even die-hard retro lovers like us could drum up enough enthusiasm for some of the filler that's on here (like, well, the Atari 2600 version of Crystal Castles).

The compilation is developed by Canadian retro specialists Code Mystics and the emulation is perfect, but let's face it, we aren't talking Crysis here so anything other than a flawless recreation would be unacceptable.
If those 100 games aren't enough for you, you can also purchase Atari VCS Vault 2 for $4.99 / £3.99, which adds another 50 games. These are a more obscure mix, including some Atari 5200 games, some lesser-known (and less enjoyable) arcade games and even some homebrew titles. It's perhaps only for die-hard Atari nuts: while many of the titles in the free collection are still perfectly playable to this day, a lot of the offerings here are just not worth bothering with.
The VCS also provides bespoke apps for Airconsole and Antstream Arcade, both of which are interesting services in their own right. For the uninitiated, Airconsole is an 'online video game console' service where players enter a code on their mobile phone and use that as a controller for a selection of games. There are ten or so free games, and the rest require a monthly subscription.
Antstream Arcade, meanwhile, is an official streaming service for over 1000 retro games covering the likes of the Amiga, C64, ZX Spectrum, NES, SNES, Mega Drive and arcade. The streaming quality and latency is perfectly fine given the lo-fi nature of the games involved.
It's important to note, however, that both Antstream Arcade and Airconsole are available on numerous other systems and devices, meaning their presence here is welcome but hardly the sort of thing that's going to sell units.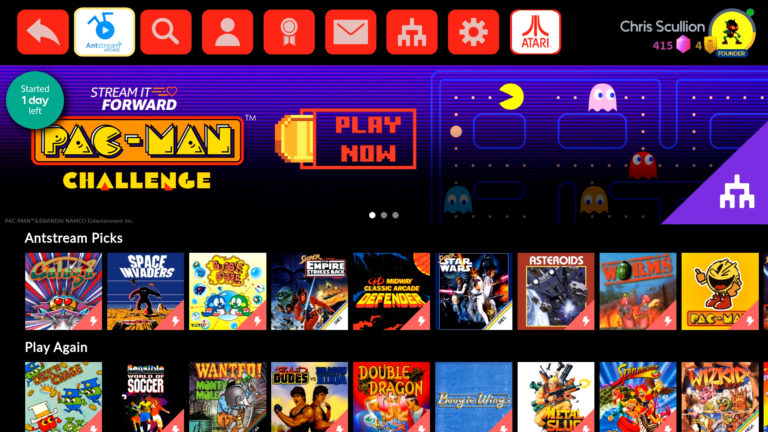 List of Atari VCS games
• Atari VCS Vault
• Atari VCS Vault 2
• Ato
• Boulder Dash Deluxe
• Danger Scavenger
• Frog Hop
• Guntech
• Mad Age & This Guy
• Missile Command: Recharged
• Mutazione
• Sigi: A Fart For Melusina
• Sir Lovelot
• Something Ate My Alien
• Spear Master
• Supermash
• Tailgunner
• Thrustlander
• Unsung Warriors (Prologue)
The same, unfortunately, has to be said for the rest of the console's library. At the time of writing, there are only 16 games available to buy, and none are particularly exciting. If you aren't willing to pay up there are a couple of free offerings, such as Missile Command Recharged and a two-year-old demo of Unsung Warriors (the full version of which is due to receive a Kickstarter campaign in April).
The rest vary in price from a couple of quid to $24.99 / £18.99 for Guntech, which is currently on Steam under the name URG for $19.99 (and frankly looks better there). It has to be reiterated, though, that what's here is pretty slim pickings. If you've genuinely waited to play such Steam titles as Frog Hop, Sigi: A Fart for Melusina or Mad Age & This Guy on your TV, now's your chance (note: all three games were released on Steam in 2017).
The most crucial issue is that every single game on the store is already available on other formats, with the exception of Thrustlander, which is coming to Steam in July. Even the Atari VCS Vault and its optional second volume are just repurposed versions of the Atari Flashback Classics games available on Switch, Xbox One and PS4.
It's Missile Command: Recharged that's perhaps the most damning indictment of the console as a whole, though. It could be argued that remakes of classic Atari 2600 games sound like the perfect sort of thing the VCS store should be filled with, the ideal exclusive carrots that Atari could dangle in front of retro enthusiasts. We can picture the sales pitch: "You want to play your old favourites reimagined for the modern era? Atari is back."
Instead, the fact that Missile Command: Recharged is also available for free on mobile and can be bought for just a couple of pounds on Steam and Switch suggests that not even Atari believes such games are enticing enough to sell the VCS.
Atari VCS Review: Conclusion
As we explained at the start of this article, it's worth bearing in mind that the Atari VCS has still not officially launched as a retail product at the time of writing, and we will update this review if any of the above has changed by the time it does.
However, given that over 11,000 people backed its initial crowdfunding campaign and are now presumably in possession of the console, it's still important to assess its current state today, given that the vast majority of its owners have to be considered hardcore Atari followers.
It's difficult to know how Atari is going to drastically expand that userbase once the VCS is made available to retailers, because we aren't entirely sure who the target market is supposed to be.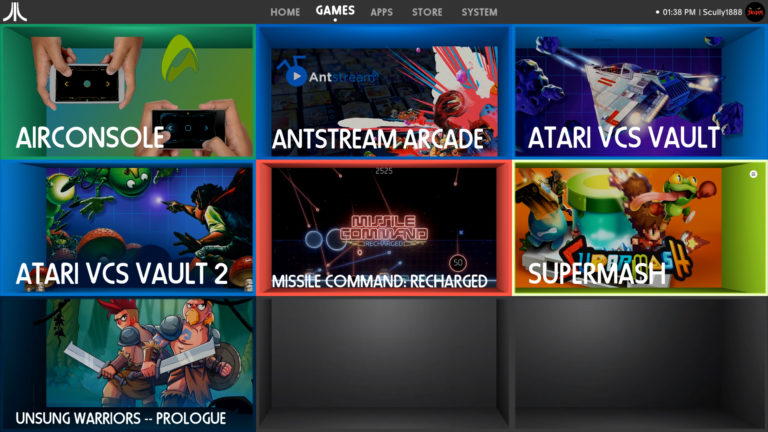 If it's dedicated video game players looking for a console, they're going to be massively underwhelmed by a limited selection of games that even low-end PCs could easily handle, and no real exclusives of value to speak of (even the Ouya had TowerFall for a while).
Granted, for all we know the store could spring to life in time for the console's official launch, but with no real rumblings of notable developers working on VCS titles it seems unlikely that the store will look drastically different than it currently does.
If it's instead aimed at an older demographic who are expected to to fondly remember the days of the original Atari VCS/2600, many of those people will now be in their 50s and 60s and it may be expecting a bit too much of them to be installing companion apps and creating bootable Linux thumb drives.
If it's instead hoping the PC Mode will make it appealing to someone looking for a stylish mini PC, there are plenty of other options out there, so it's certainly not unique in that respect.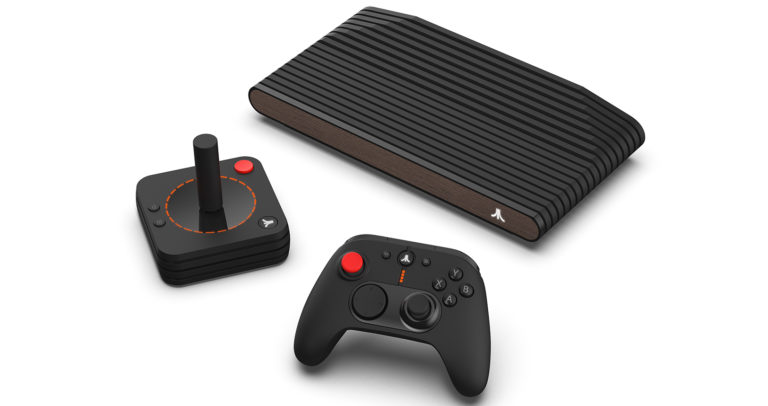 Ultimately at this stage the VCS is a curious little device that looks the part and offers impressive compatibility with a variety of peripherals, but doesn't really boast anything truly unique that should have people eagerly opening their wallets at this stage.
Atari is still promising a "Spring 2021" launch for the VCS, so it doesn't look like there's a lot of time left to transform the current system into a must-have. For all we know the situation could look drastically different a year or two from now, and we'll continue to check in on it and provide updates accordingly.
The Atari brand is back, but not necessarily with a bang yet. As long-time players with a real love for the glory days of the Atari 2600, we do hope the company can figure out the missing ingredient to turn this system from a strange jack-of-all-trades to a truly worthwhile purchase.
For now, though, anyone interested in reliving the golden days Atari should probably buy the Flashback Classics games on console or the Atari Vault on PC instead, and save themselves a few hundred bucks.
At this stage, the VCS is a curious little device that looks the part and offers impressive compatibility with a variety of peripherals, but doesn't really boast anything truly unique that should have people eagerly opening their wallets at this stage.
Slick design
High level of compatibility with peripherals
No exclusive games
Poor media app support
4K doesn't work properly
Related Products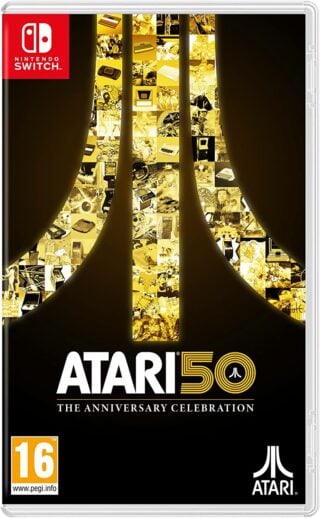 Atari 50 (Switch)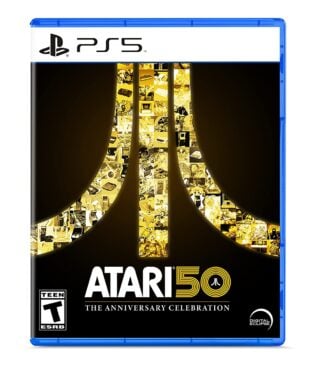 Atari 50 (PS5)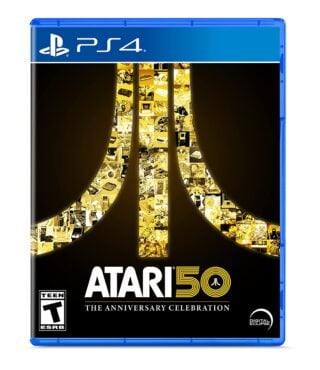 Atari 50 (PS4)
Other Products
Some external links on this page are affiliate links, if you click on our affiliate links and make a purchase we might receive a commission.