Review: Astro's Playroom is an unmissable tribute to PlayStation's history
The PS5 pack-in is both an impressive DualSense showcase and a wonderful trip through Sony's past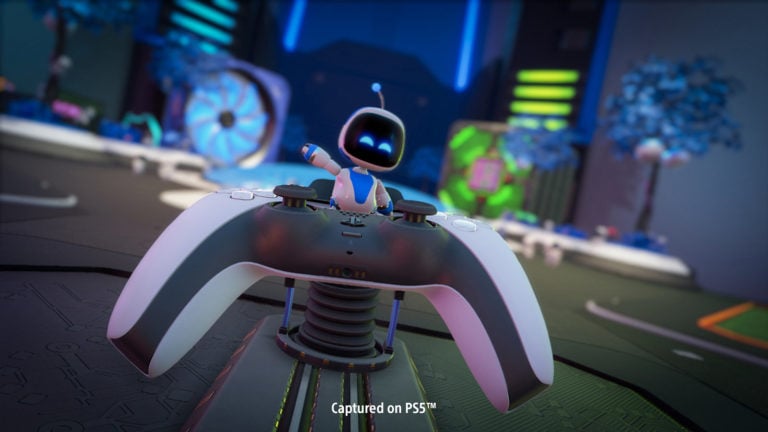 Whether it's teeing off in Wii Sports Golf or discovering an impossible vista in the original Halo, launch titles make up many of our favourite gaming memories.
As the trailblazers on their respective hardware, these day-one titles aren't often anyway near as accomplished as the software which follows, but by acting as conduits for their console's innovative new features they're able to deliver genuine moments of magic that stick with players forever.
Astro's Playroom feels like another one of those games which we'll remember fondly for years to come – and you don't even need to buy it. The colourful platformer comes bundled for free with every PlayStation 5, offering early adopters both an impressive showpiece for the genuinely brilliant DualSense controller and an unmissable tribute to PlayStation's history.
Playroom not only comes installed on your PS5, but takes place within it: its four imaginative worlds each represent a different element of the next-gen console's design, from cooling to SSD, memory and the GPU. Each linear level is stuffed full of secrets, nods to classic PlayStation games and most importantly of all, some absolutely fantastic use of the new PS5 controller.
For the uninitiated, DualSense's flagship feature is haptic feedback, which utilises a myriad of tiny vibrations to add a variety of powerful sensations during gameplay, such as the grittiness of driving a car through mud or the sensation of different floor textures as your character traverses the environment.
Haptics are paired with another sensory feature, 'adaptive triggers'. Essentially, developers can adjust the pressure of DualSense's triggers during PS5 gameplay, creating a variety of tactile illusions such as a jammed gun in an FPS game or a tiring player's sprint in a sports title.
At launch, Astro's Playroom is DualSense's killer app, sending players through a series of sensory playgrounds comprised of pitter-patter raindrops, windy meadows and sun-kissed beaches that will leave most players wondering how on Earth a piece of plastic managed to create the illusion of sand.
When Astro's robot protagonist tugs on a loose wire, you can actually sense the tension in the controller, and it feels like magic. In sections where you obtain a bow, the triggers imitate the tension of the string, tightening as you aim and releasing with a fired shot.
"Even without its DualSense magic, Astro would still be an exceptional platformer… The levels are bursting with ideas and personality, with virtually every interaction rewarded with a pleasant surprise or irresistible PlayStation Easter Egg."
It's the sort of 'next-gen' gaming experience that will have you passing the controller to your non-game-playing family members, just to see them gasp when they feel the tiny taps of Astro's footsteps beneath their fingertips. Playing a video game has never felt this satisfying.
But even without its DualSense magic, Astro would still be an exceptional platformer. The sheer breadth of imagination shown in previous Asobi Team games thrives within its latest platforming playground. The levels are bursting with ideas and personality, with virtually every interaction rewarded with a pleasant surprise or irresistible PlayStation Easter Egg.
In one level, which takes place inside a GPU-themed jungle, the titular circuitry looms large atop a distant mountain, continuously singing a robotic tune about generating next-gen visuals "just for you" (the lyrics can even be found scribbled on a secret wall).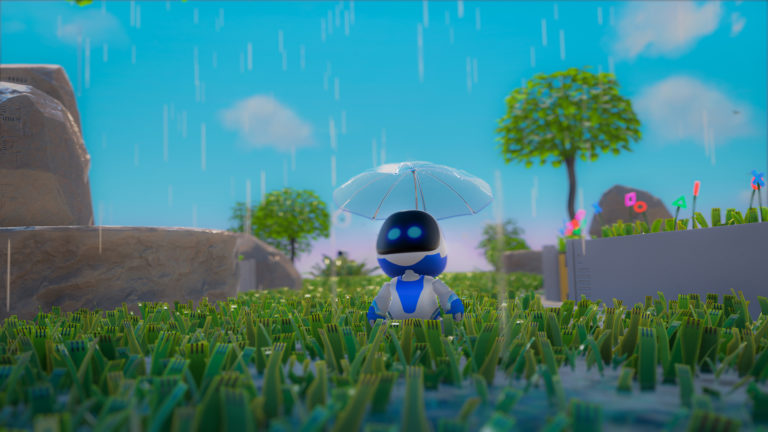 In this level, you'll climb a mountain in a monkey suit, grasping individual rocks using the two DualSense triggers. In another you'll jump inside a robotic hamster ball and nudge it around mazes using the touch pad.
Throughout its short campaign, Playroom consistently invents new mechanics for players to toy with, while the game's impressive load times – or should we say, virtual lack of them – make revisiting already completed levels to uncover more secrets irresistibly easy. Especially because everywhere you turn, robot actors are there to be discovered, re-enacting Tekken, Heavy Rain or Uncharted, purely for the fan service.
Playroom is probably the greatest tribute to a platform holder outside of Nintendo's Smash Bros. series, with virtually every piece of PlayStation hardware available to be unlocked, inspected and climbed upon in a gorgeous central hub area.
The fan service really is wonderful and alone it would be enough to delight PlayStation aficionados. But Astro's Playroom also inspires much excitement for the future, as PS5's magical next-gen controller powers a sensory salvo unlike anything we've experienced before.
Astro's Playroom is both DualSense's killer app and an unmissable, imaginative tribute to PlayStation's history. Games have never felt this satisfying.
One of the best launch games in years.
Incredible use of haptics makes DualSense feel next-gen.
One of the greatest platform tributes outside of Smash Bros.
Imaginative gameplay and worlds full of personality.
You'll be left wishing it was twice the size.
5 / 5
Version tested
PlayStation 5
Related Products
Other Products
Some external links on this page are affiliate links, if you click on our affiliate links and make a purchase we might receive a commission.