Review: Astral Chain is a one of a kind combat experience
Twice the heroes make for twice the fun in Platinum's killer combo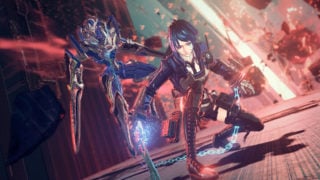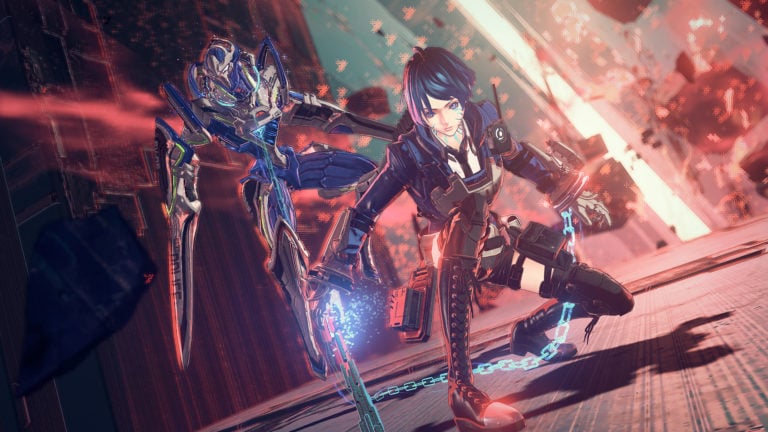 Astral Chain is a second chance for a PlatinumGames idea cut down in its prime. The idea is that of Scalebound, which would have seen a human hero fighting alongside a dragon, had Microsoft not cancelled the Xbox exclusive. On the strength of Astral Chain, more fool them.

There are no dragons in this spunky cyberpunk future. Here the mechanic manifests in the partnership between a cop and his or her Legion: a supernatural warrior that can join the fight when your police issued baton isn't getting the job done. This isn't a tag team you swap in and out, but a co-op duo controlled simultaneously by a single player. It's a bit like Brothers: A Tale of Two Sons, if one of the brothers had been a robot wolf.
The cop is your primary concern, as you dodge attacks and dish out combos that, by Platinum standards, are stripped to the bone. The Legion on the other hand/finger, can either be sent out to auto-attack or steered with precision with the second analogue stick. In basic brawls this leads to simple, satisfying tactics: the legion drawing the ire of a bigger beast to expose its flank to critical hits, perhaps, or splitting the duo to quickly thin the demonic herds.
In its opening hours you'd be forgiven for thinking this was the simplest Platinum action game yet; that they'd maybe mistaken quantity of heroes for quality. Our cop may have a slow-mo dodge reminiscent of witch time, but they are no Bayonetta. Hell, their movelist fits on a single screen, which is a Platinum first. Thankfully, what's important isn't the individual complexity of the two halves, but the range of tricks that play out between the two.
Central to this is the titular chain, as much a weapon as the creatures it connects. Take direct Legion control and loop round a monster and the glowing shackles bind them to the floor for an easy bruising. Stretch the chain in the path of a charging enemy and it acts as an elastic tripwire. It's as pure a piece of digital slapstick as you'll see this year. Running monsters broadcast that movement with a big, red line, practically begging you to do it, too.
And the chain only blossoms as the game unfolds. It becomes the leash on a bloodhound sniffing out clues, the telephone wire that eavesdrops on suspects, or the string that binds broken structures back together. More prominently, it acts like Link's hookshot as it pulls you across gaps or up to flying enemies – the juicy aerial combos have Hideki Kamiya's fingerprints all over them. Actually, Link's equipment is the perfect comparison as Platinum squeeze every drop of fun and function from its ideas in classic Nintendo fashion.
Throw in multiple Legion forms – a wolf who digs digs up burrowing enemies, or a long-ranged archer – and the tools turn combat into a puzzle. Find the right creature to exploit the right weakness.
"It's not just Platinum at its best, but often feels like a 'best of' the company's previous work, the culmination of years of action game experimentation."
This isn't to say it lacks the combo play of Bayonetta or Revengeance; often it's about exposing a gimmicky chink in the armour so you can summon your favourite legion (correct answer: the lad with fists the size of Minis) and fire up tag-teaming sync attacks. Returning to earlier levels to raise hell with a full complement of unlocked legions, and rinsing it of S+ rankings, is Platinum at its empowering best.
In fact, it's not just Platinum at its best, but often feels like a 'best of' the company's previous work, the culmination of years of action game experimentation. There's a huge dose of the underrated The Wonderful 101 in the way you 'draw' the chain onto the world, and its nimble interplay between broad, powerful forms.
There's a light sprinkling of Nier: Automata's stat-tweaking in the way you plug ability mods into the legions (not surprising, as director Takahisa Taura was lead designer). There's even a return of Metal Gear Rising's blade mode used to sever enemies from their shields with directional slices.
But as much as it hacks and slashes down memory lane, it manages – as most Platinum games do – to feel unlike anything that came before. Large portions are dedicated to life as a cop, be it chatting to colleagues at HQ or solving crimes on the city streets.
Although self-contained areas, the neon shopping malls and cat-strewn tenements convey a sense of place better than any previous Platinum world, and the light mix of platforming and puzzling is a fun showcase for the Legions' skills, as well as a nice change of pace.
Even when the combat does kick in, Astral Chain never turns into a relentless thump-o-thon. Regular trips to the Astral Plane take as much inspiration from Zelda dungeons as they do the arenas of Bayonetta and the like. Admittedly, it's a visually one-note dungeon, but the introduction of new Legions and their respective powers mean it's mechanically more novel than it looks.
Where so much of the depth and quality of Platinum's work tends to reveal itself in repeat playthroughs and mastery, Astral Chain wears more of its fun on its sleeve for the first time adventurer. And it's a look that suits them.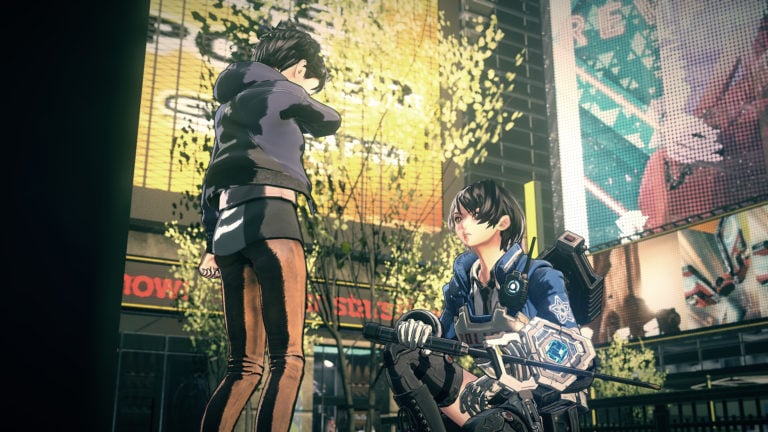 That said, it is a game you'll return to, whether to excavate secrets with the full range of Legion powers, or to fulfill the game's in-built achievement system (there are prizes for finding toilet paper alternatives in every stage), or simply getting those S+ ranks and pushing your skills in the higher difficulty setting. And, of course, just to gawp at its looks afresh: when the action is at full swing there are few Switch games that can rival it. It suffers a few hiccups in handheld mode, but still remains hugely impressive on the portable screen.
In hindsight, perhaps it's unfair to see this as a second swing at Scalebound. It's a world too singular in its cartoon cyberpunk vision to be a recycled leftover; the chained relationship between man and living weapon just too central to the action to be a quick fix for a missing dragon. Just as those fighting halves come to life in unison, so PlatinumGames and Nintendo continue their oustanding work together.
A one of a kind combat experience and Platinum's most well-rounded adventure to date. A killer combo in every sense of the term.
A truly original combat system with a rhythm all of its own
Puzzling and platforming makes for a well-rounded adventure
Completionists will be ticking off achievements for weeks
Feels like a greatest hits of Platinum's most playful ideas
A few technical hiccups in handheld mode
5 / 5
Version tested
Nintendo Switch
Related Products
Other Products
Some external links on this page are affiliate links, if you click on our affiliate links and make a purchase we might receive a commission.