Review: Arcade Paradise takes us back to the coin-op glory days
But this impressive retro love letter does take a little while to get going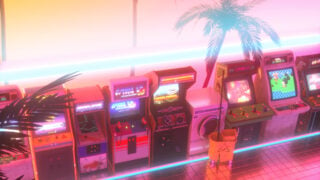 Players of a certain vintage will remember the glory days of visiting their local arcade to see what new titles had been added since their last visit.
Although it's widely documented that arcades first reached their pack in the early '80s during the days of Pac-Man and Donkey Kong, it's the early to mid '90s that many are particularly fond of, mainly because it was a unique era when the old and new generations shared the same space as equals.
As new titles appeared on a regular basis, the classics – from not only previous years but previous decades – would continue to proudly stand alongside them, cabinet-by-cabinet.
For every Super Street Fighter II, Mortal Kombat 3 or Ridge Racer that would be newly added to our local, the likes of Out Run, Final Fight, Dig Dug and Centipede continued to hold their own, proving that they still deserved their place among the newcomers.
It's this 'melting pot' era that Arcade Paradise attempts to emulate, by putting players in the role of Ash, an irresponsible teen who finds themselves running their own arcade in the mid '90s.
As a college dropout with no real direction in their life, Ash is put in charge of King Wash, the barely surviving laundromat owned by their father Gerald.
While Gerald is off living at the Riviera (and no, that's not a coincidence – he's voiced by Geralt of Rivia himself, Doug Cockle), he's tasked his offspring with maintaining King Wash in the hope that it will encourage them to take on a bit of responsibility for once.
However, when our reluctant new laundromat owner notices a couple of coin-op cabinets sitting in a small, grubby back room, an idea begins to form – what if the real money isn't in laundry, but in arcade games?
The main task becomes clear – continue to operate the laundromat to make sure it remains in business, and use its profits to slowly build the back room into an increasingly larger arcade, all while trying to keep the old man happy as he stubbornly warns not to entertain this stupid arcade idea.
Because Arcade Paradise packs a healthy number of positives, we feel we should address the major negative first – the laundromat management sections, especially early on in the game, is tedious.
Perhaps this is the point, that the player is forced to put up with a daily grind with the knowledge that in time the laundromat will become less important, the arcade will take over, and all that previous hard work will inevitably be rewarded.
This doesn't disguise the fact, however, that continually loading washing machines with clothes, waiting for the wash cycle to complete, taking them out, putting them in driers, waiting again then setting them aside for customers to collect is a deeply boring process.
It isn't just washing clothes either – players have to regularly pick up trash from the floor (it appears that every litterbug in town likes to hang out at King Wash), pull chewing gum off the walls and clean the toilets. Some of these tasks are presented as basic mini-games, but that doesn't make them any less repetitive and dull.
"Because Arcade Paradise packs a healthy number of positives, we feel we should address the major negative first – the laundromat management sections, especially early on in the game, are tedious."
It's the fact that the laundry cleaning process is timed that's the most frustrating, because while the handful of arcade machines you start with in the back room can be played, your watch is constantly reminding you that a wash is ready, meaning you have to stop your game, run out to the main floor and gather the load before it lies there for too long and you earn less money.
This is a crucial part of the early stage of the game, too, because it's your income from the laundromat side of things that goes towards buying new arcade machines on the internet, so the laundry side of things is all but essential if you want to make decent progress.
Your wonderfully accurate Windows 95-era PC gives access to the information superhighway, where a basic online store lets you buy old arcade machines with next-day delivery. Over time your PC gets more URLs which gives you more control over the running of your growing arcade and its games.
This brings us to the games themselves. There are around 35 in total, and while the arcade management side of things is clearly an important part of Arcade Paradise, it's the actual playing of the games where the most fun is to be had.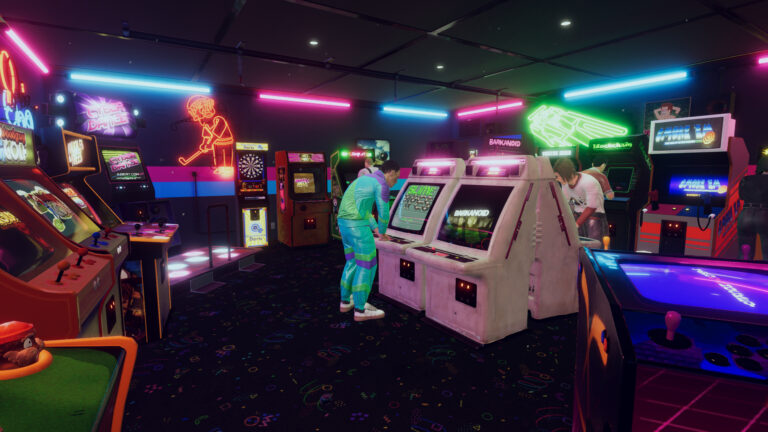 As with any game compilation that deals with a large number of games, they naturally aren't all going to be winners, and the fact they cover such a large range of genres – as any good '90s arcade did – means there are naturally going to be titles that you will personally lean more towards.
As was the case back in those glory days of the '90s, the games in Arcade Paradise vary wildly in terms of detail. From Pong clones and games with basic but striking vector graphics to 32-bit-esque efforts, there's a wide gamut of experiences available here, with some titles offering more depth than others.
The games also vary in terms of creativity, with some bringing genuinely interesting new ideas to the table and others settling for being fairly shameless imitations of classic arcade games (not that this is a bad thing).
Strike Gold is clearly just Mr Driller, for example, and Bugai is little more than Puzzle Bobble with a hat on, and while there's nothing particularly wrong with that, they're no different than any other clone you'd find online.
"Playing games isn't just a fun option, it's practically encouraged. Each game has a handful of achievements and ticking these off increases the game's popularity, allowing the player to earn more money from them."
But then you have titles like Racer Chaser, which mashes up Pac-Man and Grand Theft Auto in an interesting way. Players drive a car around a street collecting money while avoiding police cars, but if they're hit by one they can jump out of the car and try to run over to another before they're busted, continuing their life. Some have even more depth, but that would be spoiling things.
Playing games isn't just a fun option, it's practically encouraged. Each game has a handful of achievements and ticking these off increases the game's popularity, allowing the player to earn more money from them. As such, your time will be spent juggling the laundromat management side of things with trying to find free time to play the arcade games.
Most of them are also presented with a brilliantly accurate old-school filter designed to make them look like they're playing on CRT displays. We usually turn these off in legitimate retro compilations, but here it's pulled off so well that we thought they added a nice touch of atmosphere to the experience.
As the arcade builds and you rely less on the laundromat to make your income, Arcade Paradise really comes into its own as a brilliantly compelling title, with the arcade management side of things coming more into play.
Eventually, cabinet placement becomes a strategy (putting new games next to older ones can boost the latter's popularity), and you can tweak the options to see how it affects income: do you make a game harder to make people spend more, or make it cheaper to attract them easier, even though this could risk having the machines break down more frequently?
Given the small team that worked on the game (which at points, we're told, was as few as five people), Arcade Paradise is an incredible accomplishment that eventually presents the player with an absolute wealth of content. It's just a shame that there's a bit of a slog to go through before reaching that stage.
The first three or four hours are very heavily slanted towards the laundry side of things, and it can be frustrating when you only have a couple of minutes to play each game before you have to stop and do another wash. It's a painfully slow start, but thankfully this eventually evolves into a game teeming with ideas, knowing winks and retro game references.
Arcade Paradise eventually shows itself to be the thoroughly entertaining coin-op love letter we had every hope it would be.
Once you've amassed a healthy collection of cabinets, covering numerous eras from the 8-bit days to the 32-bit juggernauts of the mid 90s, it really does feel like an authentic recreation of those good old days, when the past and the present stood side-by-side in all their illuminated glory.
While it takes a while to get going, Arcade Paradise is an outstanding celebration of the '90s arcade scene with a generous helping of fully playable retro love letters.
Playable games cover a wide collection of genres and eras
A ridiculous amount of content on offer once every game's available
Countless knowing references and nods
Achievements for each game give you a reason to play them all
Laundromat management is tedious, especially in the early stages
4 / 5
Version tested
PlayStation 5
Related Products
Other Products
Some external links on this page are affiliate links, if you click on our affiliate links and make a purchase we might receive a commission.