Review: Age of Empires 4 is a brilliant sequel to an RTS classic
Microsoft's long-awaited follow-up plays it safe while streamlining some of the series' more tedious mechanics.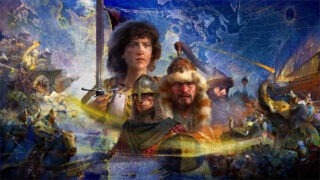 Age of Empires IV set itself an incredibly difficult task. After one sequel to the legendary Age of Empires II failed to capture the imagination of players, to the point where the predecessor still far outranks the followup in terms of popularity, creating further sequels seems like asking for trouble.
But it's here that Relic has made the smart decision to not make Age of Empires IV, but instead, have made a true sequel to Age of Empires 2, with a strategy game that retains everything that still holds up about the most revered entry, while smoothing out the edges and refreshing the dated, if charming visual presentation.
Age of Empires IV is an RTS in which you must achieve victory by building a specific structure, controlling certain parts of the map, or destroying your opponent's empire. So while your victory condition almost always falls into these three lanes, it's the journey to those outcomes that make the game so satisfying to play.
We were great fans of working towards building a wonder, a victory condition that requires balancing your economy with an army that can defend the structure once it's built. It's almost peaceful in the early game, maintaining a steady flow of villagers to attend your rapidly growing farmland, hearing the clinks of pickaxes as they chip away at the favourably positioned vein of gold near your town square.
Then, just as suddenly, that peace is broken by the uniform screams of the enemy as they burst through the weakened southern walls of your castle, and start turning all your hard work into a series of celebratory bonfires. You were so caught up in creating an efficient production line of stone for your upcoming advancement into the next age, that you forgot that even the most basic spearman can pretty easily end the short careers of your villagers, no matter how long you spent building a University.
It's these moments where Age of Empires IV teaches you its harshest lessons. There wasn't a single game, even those we won, that we didn't find ourselves learning something that could have secured victory more easily, or ensured our army was impenetrable.
The campaign, which sees players play through moments in history to relive it for themselves like it was the showcase mode of a WWE Game, is a great way to learn the ropes. You're presented with small scenarios and are given fairly clear instructions as to how to finish them, with the whole thing serving as a long, highly produced tutorial.
In a sign of Relic knowing its audience, each mission you complete will unlock additional historical material, including 4K mini-documentaries which are all brilliantly produced. These include videos on a group of people using ancient techniques to build a castle in modern day, or the current site of The Battle of Hastings.
While the campaign is a great way to get your feet wet, we spent most of our time playing skirmishes, which is where the quality of life improvements can really be felt. The process of building and maintaining your farms are simpler, although in a change from Age of Empires III, villagers once again need to drop-off resources at a specific building, meaning if you're going to send them across the map on an expedition, you'll need to make sure they have a chaperone.
"The campaign, which sees players play through moments in history to relive it for themselves like it was the showcase mode of a WWE Game, is a great way to learn the ropes."
Now, thanks to a new influence system, buildings can no longer be placed in random places if you want them to work to their full potential. Tiles can influence the buildings around them, for example, a mill surrounded by farms will yield greater production than an endless row of farms on its own. This adds a layer of city planning that's an interesting addition, especially when taking into account late game fights which will see your army running from one side of the city to another.
The UI is very clear, and scales well. We never found ourselves straining to work out exactly what was happening, or to read the finer details of a unit or building. There are still occasionally a few small issues with selecting individual units, especially in the late game when your population can grow into the hundreds.
The new animations for buildings are great, with villagers erecting scaffolding and building your epic structures piece by piece, instead of simply smacking the dirt until the Palace of Versailles shoots out of it. The game lacks a bit of the personality of the Civilization games, mostly due to their stylised approach, but there's a fair amount of variety depending on which nation and which army you wish to lead.

Age of Empires IV is a really good RTS, that plays it safe in the shadow of its famous predecessor, but rarely stands out on its own beyond that. The early game has never felt smoother, and the changes to UI and animation are welcome. While the win conditions aren't endless, the stories of how you achieved them, or failed miserably trying, are.
Newcomers may find it overwhelming, or slightly slow going in the early stages, but the campaign offers a great introduction to the genre, and the building blocks of Age of Empires.
Don't be surprised if you sit down to play a quick game, and then suddenly look at the clock to find that 3 hours have passed, your tea has gone cold, and the army that you've been meticulously building has been wiped by a garrison of archers you completely missed.
Age of Empires 4 is a brilliant sequel to an RTS classic that plays it safe while streamlining some of the series' more tedious mechanics.
Excellent RTS gameplay
Solid campaign
Clear UI, and crisp graphics.
Often feels like an AOE 2 remake.
4 / 5
Version tested
PC
Related Products
Other Products
Some external links on this page are affiliate links, if you click on our affiliate links and make a purchase we might receive a commission.