Review: Nintendo's 51 Worldwide Games is a lockdown hit on Switch
Classics and oddities combine in Nintendo's slick family collection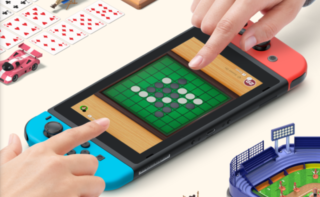 Not long ago a Nintendo release was hailed as the essential purchase during this difficult period of social isolation, but perhaps we spoke too soon.
51 Worldwide Games (or Clubhouse Games: 51 Worldwide Classics as it's known in the US) is a slick compilation of time-honoured favourites like Chess and Solitaire, regional oddities such as Nintendo's heritage game Hanafuda, and modern 3D takes on the likes of Bowling and Darts.
There's a knock-off Connect 4, BlackJack, Billiards and Mahjong, 3D 'toy' takes on football, tennis and slot carts, and there's even a virtual piano thrown in, presumably to compose on in between bouts of obscure Asian board games.
If you'll forgive us for digging out a tired cliché, there really is something for the whole family in this Nintendo Switch package and it's expectedly presented with the level of polish, clarity and warm personality that has become synonymous with the Japanese giant.
Each game is introduced by a roster of fully-voice-acted toy pieces, who explain the (often complex) game rules concisely and with an enjoyable amount of sass. There's a single-player campaign of sorts, where plastic characters from across the globe challenge you to try their curated collection of odd marble activities, but you'll more likely dive straight into your favourites or take a gamble on a specific oddity.
For solo players there's plenty here: Solitaire (in Spider and Klondike forms) is addictive as ever and the top-down Golf game is a real treat. Everything can be played against AI opponents at various levels of difficulty and online play is supported if you want to find a random opponent in Backgammon.
For the social players, up to four players can queue up a roster of games – either online or locally – and keep score across each, which is a nice addition for wannabe game night organisers.
The 51 Games
Mancala
Dots and Boxes
Yacht Dice
Four-in-a-row
Hit and Blow
Nine Men's Morris
Hex
Draughts
Hare and Hounds
Gomoku
Dominoes
Chinese Checkers
Ludo
Backgammon
Renegade
Chess
Shogi
Mini Shogi
Hanafuda
Riichi Mahjong
Last Card
BlackJack
Texas Hold'em
President
Sevens
Speed
Matching
War
Takoyaki
Pig's Tail
Golf
Billiards
Bowling
Darts
Carrom
Toy Tennis
Toy Football
Toy Curling
Toy Boxing
Toy Baseball
Air Hockey
Slot Cars
Fishing
Battle Tanks
Team Tanks
Shooting Gallery
6-Ball Puzzle
Sliding Puzzle
Mahjong Solitaire
Klondike Solitaire
Spider Solitaire
In local play, Nintendo has made particular effort to maintain some of the intimacy and tangible enjoyment of the original games. Chess, Draughts and Air Hockey, for example, can be played entirely on the touch screen, laid flat between the two players like a real game board, just like that memorable Wii U tech demo that never came to fruition (you can even tilt the pieces off the board).
With so many disparate games thrown in, it's no surprise that there are varying levels of entertainment across the roster. For Wii Sports enthusiasts, Bowling and Darts are the headline games, with the former looking and functioning like a modern successor to the 2006 living room phenomenon and already the subject of many hours of play in our household by itself.
Time-honoured classics such as BlackJack and Chess are naturally elevated with human opponents, while the likes of Hanafuda and Shogi benefit from spending some time to memorise the game rules so the over-baring assist features can be switched off. There are, of course, a few duds in the package; Toy Boxing is mindless button-mashing, while Shooting Gallery is a bit like a 2000-era Flash game you'll play once and never return to again.
But that's the beauty of the games night compilation; if a particular activity isn't to your taste, then there's still 50 others from which you'll surely find a favourite. At a time when family time has never been more abundant, 51 Worldwide Games could turn out to be a classic.
A polished package of classic and modern games the entire family will enjoy.
A polished and clearly presented package
Excellent multiplayer features, online and off
Bowling is almost worth the price of admission
Understandably, there are a few dud games.
4 / 5
Related Products
Other Products
Some external links on this page are affiliate links, if you click on our affiliate links and make a purchase we might receive a commission.