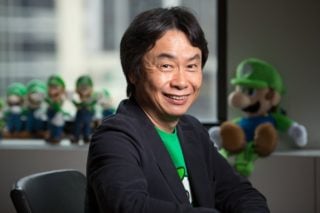 Shigeru Miyamoto
Shigeru Miyamoto is a Japanese game designer and producer at Nintendo. He is best known as the creator of some of the best-selling game franchises of all-time, including Super Mario, Donkey Kong, Legend of Zelda, F-Zero, Pikmin and Star Fox. In 2015 Miyamoto was appointed Creative Fellow at Nintendo after almost 40 years at the company.
Born and raised in a rural community near his current home of Kyoto, Japan, Miyamoto would often explore his natural surroundings in Sonebe; Rice fields, canyons, grassy hills, waterways and caves.
Growing up, Miyamoto wanted to make something that would astonish the world. He considered being a puppeteer or painter, and later made toys as an outlet for his creativity. When Shigeru entered the Kanazawa Munici College of Industrial Arts and Crafts in 1970, he studied industrial design.
When he finally did graduate, in 1977 he had his father contact an old friend who ran a toy company. The friend's name was Hiroshi Yamauchi and the company was Nintendo. Shigeru was 24 when he first met Yamauchi, who, after meeting Miyamoto, asked him to return with ideas for toys. Miyamoto did just that, returning with a bag full of creations and a portfolio that landed him a position as Nintendo's first staff artist. That was fortunate, considering that Nintendo didn't need one at the time.
It wasn't until 1980 that Hiroshi Yamauchi brought Miyamoto into his office to announce that he wanted a video game made. He was curious to find what Miyamoto knew of these unique new things and luckily, Shigeru enjoyed them in his college years and explained to Yamauchi that he would love the opportunity to work on such a project. After the Popeye license fell through, the game concept Miyamoto developed for Yamauchi became known as Donkey Kong.
Donkey Kong marked the birth of Mario (who at the time didn't have a name,) and became the launching pad for Nintendo's radical success in the videogames. Arcade games were just the beginning for Shigeru Miyamoto, who soon went on to develop his art and design skills on home consoles with Super Mario Bros and The Legend of Zelda.
Shigeru dated and eventually married a woman named Yasuko who worked in Nintendo's general administration department. After they married, Miyamoto and Yasuko bought a small house near Nintendo from which he would either walk or ride a bike to work every day.
Shigeru Miyamoto News
Nintendo's creative fellow discusses the film's huge success ahead of its Japanese release