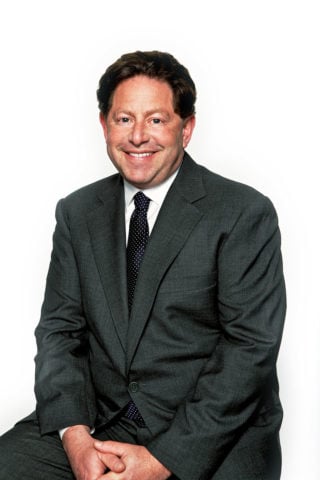 Bobby Kotick
Bobby Kotick is an American businessman who serves as CEO of Call of Duty maker Activision Blizzard. Kotick engineered the Activision Blizzard merger, and he became CEO of the combined company in 2008.
Kotick is reportedly the longest-serving head of any publicly traded tech company, with an estimated worth of more than $500 million, thanks to both his shares in Activision Blizzard and outside business dealings.
Bobby Kotick: Early career and buying Activision
Despite reportedly not being a fan of games, Bobby Kotick started his career as a businessman in the games industry in the 1980s. As a student at the University of Michigan, he started a company called Arktronics and sold Apple II games created by his friend Howard Marks.
Eventually, he persuaded businessman Steve Wynn to invest in the company and dropped out of college to focus entirely on the software business.
After failing to acquire Commodore in 1987, Kotick turned his attention to the struggling Activision – then known as Mediagenic – and acquired a third of the company for less than $500,000 with investors including Steve Wynn and Howard Marks.
Kotick was immediately installed as CEO and made sweeping changes to the company, which was facing bankruptcy due to debts of $30m. This included letting go all but 8 of the company's 150 employees and relocating its HQ to Los Angeles, California.
"Kotick's pitch to game developers was that he would be more fun to work for than rival EA, which he said had 'tried to commoditize development.'"
Bobby Kotick: Activision's rise and Blizzard merger
The following year Kotick raised $40m in stock offerings and went about creating an ambitious studio system. According to Forbes, Kotick's pitch to game developers was that he would be more fun to work for than rival EA, which he said had "tried to commoditize development." He said: "We won't absorb you into a big Death Star culture."
Activision went public in October 1993 and was listed on NASDAQ under its new ticker symbol ATVI.
Between 1997 and 2008, Activision made more than 20 studio acquisitions, including Raven Software (Heretic), Neversoft (Tony Hawk) and Red Octane (Guitar Hero). Activision was merged with Vivendi Games in 2008 and became known as Activision Blizzard.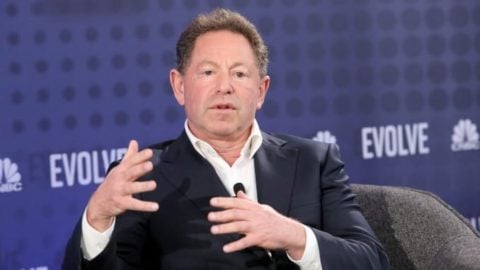 Bobby Kotick: Modern worth and earnings
Today, Bobby Kotick is a non-executive director for The Coca-Cola Company and a board member at the Center for Early Education and the Los Angeles County Museum of Art.
In 2019, non-profit organization As You Sow ranked Kotick as the 45th most over-paid chief executive officers of the United States. That year the exec earned an estimated $30.1, making him the 21st most highly compensated CEO in the United States that year.
Bobby Kotick is said to have earned 319 times more than the average Activision Blizzard employee's salary of $97,000 in that year.
Bobby Kotick News
The companies met in December to discuss Nintendo's next-gen console