Zelda: TotK is only the 6th game in 30 years to get both a 'Famitsu 40' and 'Edge 10'
It's also the fourth Zelda game to achieve the rare milestone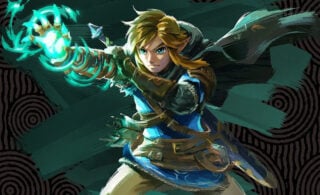 The Legend of Zelda: Tears of the Kingdom has become only the sixth game in 30 years to receive the highest score in both Famitsu and Edge magazines.
A 40/40 score in Japanese magazine Famitsu (which consists of four reviewers each giving a game 10/10) is considered a rare achievement, and only 28 games in the magazine's 37-year history have been scored 40.
A score of 10 in UK magazine Edge is considered similarly uncommon, with only 24 games receiving the accolade since the magazine launched 30 years ago.
What's even less common, however, is for a game to receive both a 'Famitsu 40' and an 'Edge 10', therefore ticking off both the east and west's most coveted magazine scores.
The award of both scores to Tears of the Kingdom makes it the sixth game to achieve this feat, and the fourth Zelda title to do so. The full chronological list is as follows:
The Legend of Zelda: Ocarina of Time
The Legend of Zelda: Skyward Sword
The Legend of Zelda: Tears of the Kingdom
There have been a number of near-misses over the years, where a game has scored a perfect score in one publication and has just been one point off it in the other.
Elden Ring, Grand Theft Auto IV, Red Dead Redemption 2, Super Mario 64 and Super Mario Odyssey all received a 10 in Edge, but only received a 39 in Famitsu.
Similarly, Dragon Quest IX, Final Fantasy XII, The Legend of Zelda: The Wind Waker, Metal Gear Solid V, Metal Gear Solid: Peace Walker, SoulCalibur, Super Smash Bros Brawl and The Elder Scrolls: Skyrim all received a Famitsu 40, but only got a score of 9 in Edge.
In 2013, Edge amended seven games' scores and retrospectively changed them to 10s, including Resident Evil 4, GoldenEye 007 and Dark Souls. However, none of these seven games were Famitsu 40s, meaning the number of games to achieve both scores was unaffected.

Edge Magazine was launched in 1993, seven years after the first issue of Famitsu was published in Japan.
The Legend of Zelda: Tears of the Kingdom also got a (soon-to-be similarly coveted) 5-star VGC review, in which we called the title "easily one of the very best games on Nintendo Switch".
Related Products
Other Products
Some external links on this page are affiliate links, if you click on our affiliate links and make a purchase we might receive a commission.