Zelda: Skyward Sword HD is getting an amiibo with a very useful feature
Players can use it to teleport to the sky from anywhere on the ground
Nintendo has revealed a new amiibo that will released alongside The Legend of Zelda: Skyward Sword HD.
The amiibo features Zelda and a Loftwing, and can be used in the game to get around quicker.
In the original Wii version of the game, Link can travel from the surface to the sky by visiting certain locations and selecting the "to the sky" option.
Players with the Zelda and Loftwing amiibo will now be able to tap it on their controller at any point and travel to the sky no matter where they are on the surface.
When in the sky, players can then tap the amiibo again to return back to where they were on the surface when they scanned it the first time.
According to Nintendo the amiibo even works while inside dungeons on the surface, and inside buildings in the sky.
Revealed during a Nintendo Direct live stream in February, Skyward Sword for Switch will feature "smoother and more intuitive" controls, in addition to a 60fps framerate and improved graphics.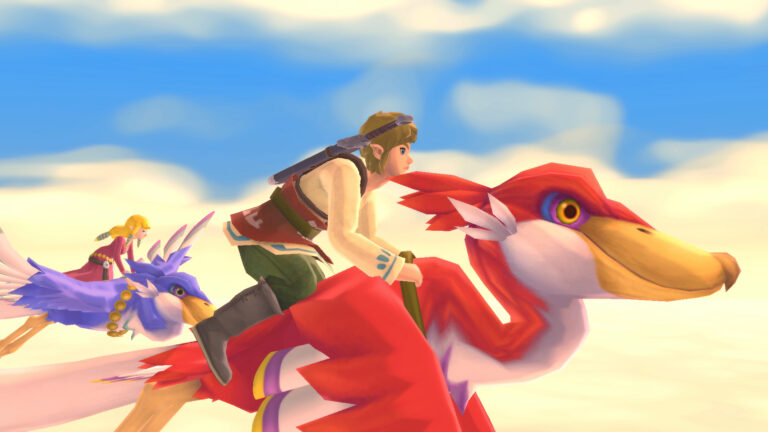 The original Wii game, which was released in November 2011, was reliant on the Wii Motion Plus peripheral for sword combat and puzzles.
On Switch, controls have been redesigned for the console's Joy-Cons, or by using the right analog stick to direct sword swings while in handheld mode, on Switch Lite or with a Pro Controller.
Nintendo also confirmed a pair of Zelda-themed Joy-Con controllers, which will release alongside Skyward Sword in July.
Nintendo previously released remasters for Zelda's two earlier 3D entries, Wind Waker and Twilight Princess, for Wii U. Both titles featured upgraded visuals and gameplay additions.
Related Products
Other Products
Some external links on this page are affiliate links, if you click on our affiliate links and make a purchase we might receive a commission.