Zelda drives record quarter for Switch with 18.5m sales
The sequel saw Nintendo's profits surge 82%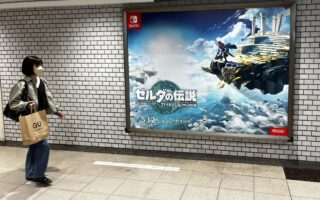 The Legend of Zelda: Tears of the Kingdom drove a record quarter for Nintendo Switch, with the company confirming it sold 18.51 million units of the game as of June 30, 2023.
During the three-month period, global sell-through of first-party software reached the highest level for a first quarter since the Nintendo Switch launched in 2017, the company claimed.
The company also enjoyed a record first-quarter profit of 185.4bn yen ($1.294bn), which is up 82%, and surpasses the 2020 period when it released Animal Crossing: New Horizons and the start of covid-19 lockdowns boosted sales.
Driven by Zelda, Nintendo shipped 3.91m Switch units during the three-month period (short of the 5.68 managed in Q1 FY21), which is up 13.9% year-on-year and brings the life-to-date total to 129.53m. The vast majority of these (86%) were OLED models, including the special edition Tears of the Kingdom console, which launched in April.
The Legend of Zelda: Tears of the Kingdom was released on May 12 and sold 10 million copies worldwide in its first three days, according to Nintendo. That made it the fastest-selling game in the history of the series and the fastest-selling Nintendo game for any system in Europe and the Americas.
Nintendo said in its latest results that sell-through of this one title constituted approximately half of the first-party software sold this fiscal year.
---
THE BEST-SELLING SWITCH GAMES
*As of June 30, 2023 (compared to Mar 2023)
Mario Kart 8 Deluxe – 55.46m (+1.67m)
Animal Crossing: New Horizons – 42.79m (+0.58m)
Super Smash Bros. Ultimate – 31.77m (+0.68m)
Legend of Zelda: Breath of the Wild – 30.65m (+0.84m)
Super Mario Odyssey – 26.44m (+0.68m)
Pokemon Sword/Shield – 25.92m (+0.1m)
Pokémon Scarlet & Violet – 22.66m (+0.56)
Super Mario Party – 19.39m (+0.35m)
Legend of Zelda: Tears of the Kingdom – 18.51m (NEW)
New Super Mario Bros. U Deluxe – 16.17 (+0.76m)
---
"Consumers who played the previous entry, The Legend of Zelda: Breath of the Wild, have been the primary driver, but as the weeks have passed, we have seen that a growing percentage of purchases are being made by consumers who have not yet played that title," it said.
Nintendo forecasts it will sell 15 million consoles during the current fiscal year ending March 31, 2024, which represents a further 16.5% decline, as Switch enters a significant slowdown during its seventh year on the market.
According to VGC sources, the company has dispatched Switch 2 development kits to key partners, with a launch planned for the second half of 2024. Officially, the company is yet to comment on plans for its next console.
Nintendo also made room in its results for The Super Mario Bros. Movie, which it said tripled its mobile and IP-related revenue to 31.8bn yen ($222m).
The movie, which began its theatrical release in various markets around the world on April 5, has now been viewed by 168.10 million people, it said.
As of July 26, global box-office revenues totalled $1.349, which is the highest ever for an original film based on a video game, and the second-highest for an animated film.


Thanks in part to the Mario Bros. Movie, Nintendo said it enjoyed a boost in sales of Mario titles including Mario Kart 8 Deluxe, which sold 1.67m copies during the quarter.
Commenting on its future release outlook, it said: "For software, we released Pikmin 4 in July, which will be followed by the release of Super Mario Bros. Wonder in October and Super Mario RPG in November.
"In addition, add-on content for Pokémon Scarlet and Pokémon Violet in the form of The Hidden Treasure of Area Zero is on the way. The first wave of this add-on content, The Teal Mask, is planned to be released in the fall of 2023, and the second part, The Indigo Disk, is planned for release in the winter of 2023.
"Other software publishers also plan to release a wide variety of titles, and we will work to invigorate the platform by supplementing existing titles with a continuous stream of new titles and add-on content."
Related Products
Other Products
Some external links on this page are affiliate links, if you click on our affiliate links and make a purchase we might receive a commission.