Zack Snyder says his upcoming Netflix space epic Rebel Moon is getting an RPG
The filmmaker says the game will have a "ridiculous scale"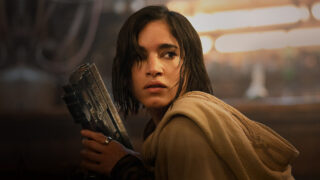 Filmmaker Zack Snyder says his upcoming space movie Rebel Moon will be getting an accompanying RPG.
Appearing on The Nerd Queens podcast, Snyder revealed that he was helping with the development of the game, which will be based on the anticipated Netflix epic space opera due for release on December 22.
"The one thing that I'm having a really good time with – and I don't really know if I'm supposed to talk about it – is this RPG that we're doing that is just literally insane, and so immersive and so intense and so huge," Snyder revealed.
Briefly saying "I don't want to do a casual…" before interrupting himself, Snyder added: "There's more coming, but all I'll say is that it was pitched to me – because I've always wanted to do an RPG – like, 'well, we could do it at this scale, or we could do it at ridiculous scale'.
"And I was like, ridiculous scale is clearly the scale that we should be doing it.
"And they were like: 'Well, it's going to take so much time, we've got to do all these brain dumps, you've got to tell us everything in the universe, what's happening, the science.' And I was like: 'It's fine, I'm happy to do it, let's go all the way.'
Snyder added that the game would offer "a completely realised universe and it's really going to be fun", before saying "anyway, I'm not supposed to talk about it" and changing the subject.
Rebel Moon will be directed by Snyder and will star Sofia Boutella (The Mummy), Djimon Hounsou (Blood Diamond) and Ed Skrein (Game of Thrones), and will be shown exclusively on Netflix.
Netflix has been continuing to expand its gaming output, though at the moment only mobile titles are available.
In January it released its 50th mobile title, a port of Teenage Mutant Ninja Turtles: Shredder's Revenge.
Other titles available via the Netflix app include the critically acclaimed Poinpy, three games based on Stranger Things and mobile ports of Oxenfree, Twelve Minutes and Kentucky Route Zero.