YouTuber spends $70,000 building 'the world's largest PS5'
Fully functioning console weighs 500 pounds and is over 10 feet tall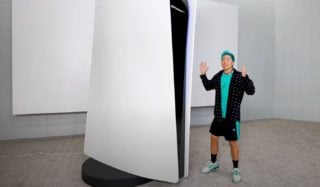 A popular YouTuber claims he spent $70,000 building "the world's largest PlayStation 5"
As spotted by Gamespot, content creator and comic book artist Zachary Hsieh – aka ZHC – claims the giant console weighs 500 pounds, is over 10 feet tall, and took four months to create.
"This enormous PlayStation 5 is literally 100 times larger than a regular one and the craziest thing is that [it] actually works."
In a video published earlier this month, ZHC and a team of artists spent an additional 100 hours customising the oversized console and promised to give away a batch of over 20 real PS5s to "children in need" and random channel subscribers.
Hsieh also promised to give away the giant PS5 to one of his subscribers, should he lose a challenge which pits him against five other artists.
In a similarly large – and officially sanctioned – stunt, last October Microsoft made real Xbox Series X fridges, based on a popular meme.
The promotional items were sent to influencer iJustine and rapper Snoop Dogg, and function exactly as a normal fridge would but with an Xbox Series X design, complete with boot-up music upon opening its door.
The fridge is based on various memes circulated following Series X's December 2019 reveal, comparing the console's unique design to that of a refrigerator.
"You knew we had to do this," wrote Xbox marketing boss Aaron Greenberg. "Check out the full unboxing of the fastest, most powerful fridge!"
UK retailers are expected to restock PlayStation 5 this week, as Sony continues its struggle to satisfy the significant demand from consumers.
According to social media reports, UK retailers including Argos have received new PlayStation 5 stock ahead of an expected on-sale date sometime this week.
Following restocks at Game and ShopTo last week, the remaining major retailers including Amazon, Very and Currys could also put new PS5 stock on sale this week. Previously these retailers have made their stock available during the morning hours.
UK physical PlayStation 5 game sales surged last week, after some retailers made more stock available for the in-demand console.
According to GfK data republished by GI.biz, Spider-Man: Miles Morales rose eight places in the official chart to No.4 with a 264% sales spike. PS5 exclusive Demon's Souls enjoyed a similar boost, with weekly sales rising 401% to propel the title to No.17.