Yakuza's Kazuma Kiryu is a playable character in Super Monkey Ball Banana Mania
Ryu Ga Gotoku Studio announces latest free character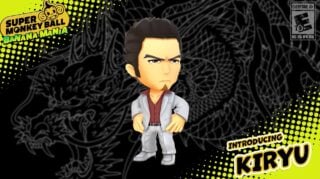 Sega has revealed that Yakuza's Kazuma Kiryu will be a playable character in Super Monkey Ball: Banana Mania.
Yakuza and Banana Mania developer Ryu Ga Gotoku Studio said the character will be free to unlock on all platforms through normal gameplay when the title is released.
Other recently confirmed Banana Mania guest characters include Sonic and Tails, with the latter making his Monkey Ball debut, plus Beat from Jet Set Radio.
Sega previously teased plans to bring "several iconic guest characters" to the game, while character 'skins' based on classic Sega consoles like the Dreamcast, Saturn and Game Gear will also be available as DLC.
Super Monkey Ball: Banana Mania was announced during a Nintendo Direct in June. It will contain remasters of Super Monkey Ball, Super Monkey Ball 2 and Super Monkey Ball Deluxe running on the same engine as Super Monkey Ball: Banana Blitz HD.
The game will be released on October 5 for Switch, PC, Xbox One, Xbox Series X|S, PS4 and PS5.