Xbox's website has been given a new look inspired by the original Xbox
As part of Xbox's 20th anniversary celebrations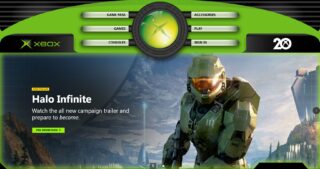 The official Xbox website has received another makeover as part of the brand's ongoing 20th anniversary celebrations.
The front page of the website is currently sporting a new look inspired by the original Xbox's design.
Last month, the official Xbox website was updated with a look inspired by the 'blades' dashboard that launched with Xbox 360.
Xbox Wireless Controller – 20th Anniversary Special Edition
Microsoft's first games console launched alongside Halo: Combat Evolved on November 15, 2001.
The company recently confirmed plans to celebrate Xbox's 20th anniversary later this month with a special digital broadcast.
"While we won't announce any new games, this anniversary broadcast will be a special look back at 20 years of Xbox," it said.
Microsoft will launch the first limited edition Xbox Series X console and a limited edition Elite Series 2 controller on November 15. Priced at $549.99 / £479.99, the console's design was inspired by the Halo universe.
Another 20th anniversary special edition Xbox controller and a special edition headset will be released this month too.
Xbox and Adidas have also partnered to create a series of sneakers designed to celebrate the console brand's upcoming birthday.
According to XboxEra co-founder Nick Baker, Microsoft may be planning to expand its backwards compatibility programme by making a new wave of original Xbox and Xbox 360 titles playable on modern hardware in November.
On Monday, Microsoft dated the next wave of titles coming to Xbox Game Pass for console, PC and Xbox Cloud Gaming. November's additions to the subscriber service include It Takes Two, Football Manager 2022, Forza Horizon 5 and Grand Theft Auto: San Andreas – The Definitive Edition.