Xbox's new Suspend feature 'improves download speeds'
Players no longer have to quit their games to speed up their download queue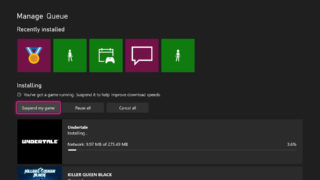 A new update is rolling out for Xbox One and Xbox Series X/S that lets players manually suspend a game to increase download speeds.
The news was announced on Twitter by Xbox engineering lead Eden Marie, who confirmed that the new feature was rolling out to players on the Xbox Insider program, who get updates early.
Marie's tweet appears to confirm that the feature also works on Xbox One systems as well as the next-gen Series X and Series S models.
The new Suspend feature will let players manually suspend their game's state so they can free up bandwidth for any updates or new games in the download queue.
When players are playing a game, Xbox consoles will slow background download speeds to make sure any online multiplayer isn't affected.
Until now, players wishing to speed up their downloads would have to quit out of their active game entirely. This new feature ensures they don't have to do this.
It remains to be seen how this will affect Xbox Series X and Series S games that don't already support the Quick Resume feature, and whether forcing a suspended state could cause issues when players resume games that require a permanent online connection to play.
Marie also says players' Full Library menu will be given "new banners" that will take them "to more useful categories". The screenshot included in the tweet appears to show new 'Recently Added' and 'Leaving Soon' banners in the Game Pass section of the library, which makes it easier for players to see which games are being added to and removed from the subscription service.
Xbox's main March update for all users recently rolled out and included new toggles for FPS Boost and Auto HDR for backward compatible games, updates to the Xbox Accessories app ahead of the launch of the Xbox wireless headset, and the return of Achievements to the Xbox app, among other features.