Xbox's Grounded will enter Game Preview and Steam Early Access
Release timing confirmed for Obsidian adventure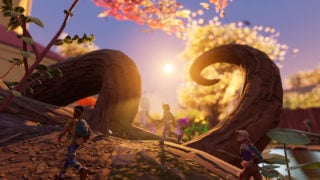 Obsidian's Xbox and PC survival game Grounded will enter Xbox Game Preview with Xbox Game Pass Ultimate and Steam Early Access on July 28.
Furthermore, those who join the Xbox Insider program will get a chance to secure an early hands-on with Grounded this Spring, publisher Xbox Game Studios announced on Tuesday.
First revealed at X019 in November, Grounded has players "shrunken to the size of an ant" and tasked with surviving in the micro-world of a suburban backyard.
Players must gather, craft and build bases with everyday objects found within the yard, searching for life-saving resources and living alongside giant, peaceful insects while fighting to survive hostile inhabitants.
In an Inside Xbox live stream on Tuesday, Obsidian (The Outer Worlds) revealed the first trailer focusing on the single player experience for Grounded.
The game's story sees the player wake up in a suburban backyard, shrunk to the size of an ant. You hear the voice of a mysterious robot named BURG.L, who lets you know that the machine to turn you back to normal size is currently out of order.
Grounded is described as the "passion projection" of a small development team at Obsidian, which it says is "one of many" teams working on new projects internally.
"This title has given the team the creative outlet to bring their years of developing highly regarded games to bear on the survival genre," said communications director Mikey Dowling in a prepared statement last year.
"RPGs like The Outer Worlds will always be in Obsidian's DNA, but from time to time we want to stretch our creative muscles and try things that might be a little different."