Xbox will replace E3 plans with a digital event
Ubisoft also exploring digital alternative as E3's cancellation is confirmed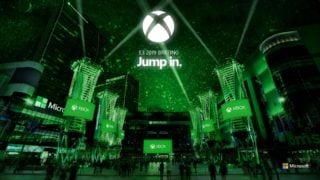 Xbox will hold a digital event to replace its plans for the cancelled E3 2020, it's confirmed.
In a statement published following the news of E3 2020's cancellation, Xbox boss Phil Spencer said the platform holder will reveal details of its new plans in the coming weeks.
"E3 has always been an important moment for Team Xbox," he wrote. "Given this decision, this year we'll celebrate the next generation of gaming with the Xbox community and all who love to play via an Xbox digital event.  Details on timing and more in the coming weeks."
Ubisoft also said it would "explore" the option of a digital event to replace its E3 2020 plans.
E3 2020 was set to be a focal point for new information on the upcoming Xbox Series X and PlayStation 5 launches, with Xbox said to have invested heavily in its plans for the show.
Sony said in January that PlayStation would not attend E3 for the second year in a row, but PS5 would still have likely had a strong presence at the show.
However, one leading investment bank has claimed that if the coronavirus outbreak continues to delay manufacturing in China, next-gen console launches could be constrained or even delayed.
Confirming news of E3 2020's cancellation on Wednesday, organiser the ESA said it was exploring options to coordinate "an online experience to showcase industry announcements and news" in June 2020.
"We thank everyone who shared their views on reimagining E3 this year," it said. "We look forward to bringing you E3 2021 as a reimagined event that brings fans, media, and the industry together in a showcase that celebrates the global video game industry."