Xbox showcased almost 30 upcoming indie games today
Including six titles coming to Xbox Game Pass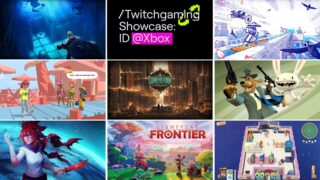 The second Xbox and Twitch indie games showcase took place on Tuesday and it was used to shine a spotlight on almost 30 upcoming titles.
The two-hour stream, which you can rewatch here, featured new trailers (see below), gameplay demos and developer interviews.
Of the games shown at today's event, six will be available on Xbox Game Pass, including Library of Ruina, which is out today.
The other five titles headed to Xbox Game Pass are Aragami 2, Artful Escape, Evil Genius 2, Pupparazzi, and Stardew Valley.
Another game shown and released for Xbox today is the console version of Sam & Max Save the World Remastered.
Below we're rounded up a selection of trailers for games featured in today's event.
Aeon Drive (2awesome Studios)
Anvil (Action Square)
Aragami 2 (Lince Works)
Artful Escape (Beethoven & Dinosaur)
Button City (Subliminal)
Evil Genius 2 (Rebellion Interactive)
Inkulinati (Yaza Games)
Lab Rat (Chump Squad)
Library of Ruina (Project Moon)
Lightyear Frontier (FRAME BREAK)
Loot River (Straka Studio)
Mad Streets (Craftshop Arts)
OlliOlli World (Private Label)
Pathfinder Wrath of the Righteous (Owlcat)
Planet of Lana (Wishfully)
Pupparazzi (Kitfox Games)
RPG Time (Deskworks)
Sam & Max Save the World Remastered (Skunkape Games)
She Dreams Elsewhere (Studio Zevere)
Solace State (Vivid Foundry)
Soup Pot (Chikon Club)
Spacelines From the Far Out (Coffeenauts)
Stardew Valley (Concerned Ape)
The Big Con (Mighty Yell Studios)
The Vale: Shadow of the Crown (Falling Squirrel)
The Wandering Village (Stray Fawn)