Xbox Series X/S can use standard SSDs in the expansion card slot, it's claimed
User discovers that other drives can be converted to work in the card's slot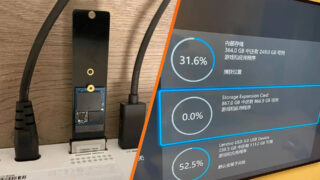 A modder has managed to convert an internal SSD into an external Xbox Series X/S expansion card, and theorises that other non-proprietary SSDs could work too.
At the time of writing, the Xbox Series X/S only has two storage solutions for playing next-gen games: the consoles' internal SSD, and a proprietary Seagate expansion card that fits into its own port on the back of the console.
A member of Chinese website BiliBili has written a detailed blog on how they managed to buy another external SSD and get it running on the console as if it were the Seagate card.
The user says they discovered while watching a teardown video of the console that it used two PCIe 4.0 x2 slots, one for the internal NVMe SSD storage and another for the Seagate expansion card.
They also noted that the expansion card was a CFExpress card, which also uses the NVMe protocol. They theorised that as long as they could find the right PCIe 4.0 SSD, they could convert it to fit into the expansion card port using an adapter.
The SSD they opted for was a 1TB Western Digital SN530 m.2 2230, because according to the user, this is the same internal SSD that's actually used in the Xbox Series X hardware (as discovered on other forums in the past).
By connecting this SSD to a CFe to NVMe adapter, the user was able to plug the SSD into an Xbox Series S via the expansion card.
The console recognised it, and listed it in the storage as 'Storage Expansion Card', giving the user 867 GB of extra storage.
The user stresses that they have only tested this with the same SSD that is used as the Xbox Series X/S internal storage, and it's not guaranteed that other storage will work at this point.
"If there are experts out there who can try other NVMe PCIe 4.0 solid state drives, especially the 2280 length, which can be expanded to 4T or more, then the value of this discovery will be great," they said (VGC's translation). "I hope someone can give feedback if they test it."

They added: "Someone tried inserting their camera card (CFexpress Type B, PCIe 3.0 x2, 2000MB/s) into the Xbox and got an incompatible pop-up.
"So the hard drive needs to support PCIe 4.0. It's not clear whether there is a limit to the size of the hard drive capacity, and it's also not clear whether PCIe 4.0 x4 can be used. If it can, [theoretically] PM9A1 and a large number of hard drives can be used. I'm looking forward the experts' tests."
If this process does work with other SSDs, it also remains to be seen whether the console has minimum speed requirements, like PS5's SSD support does, in order to play games without issue.
Related Products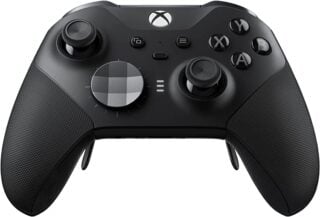 Xbox Elite Series 2 Wireless Controller
Other Products
Some external links on this page are affiliate links, if you click on our affiliate links and make a purchase we might receive a commission.