'Xbox Series X photos' claim to show console's rear ports
Take a closer look at Microsoft's next-gen Xbox prototype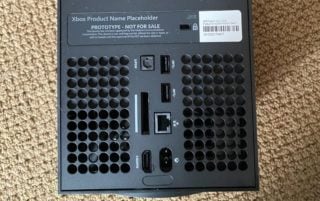 Two photos claiming to show a prototype Xbox Series X appear to have been leaked, with one revealing the console's rear ports.
The images were originally posted on NeoGAF and back up a previous report from tech site Thurrott regarding the ports included on current early iterations of the hardware.
While these may not be final and are subject to change, multiple people said to be familiar with the hardware told the site that the back of the Xbox Series X features two USB-A ports (of the SuperSpeed variety), ethernet, a single HDMI port, optical audio, and a power connection.
There's also another port on the back that may be used for debugging, plus a USB-A port on the front of the console.
Xbox Series X was officially unveiled at The Game Awards in December 2019.
It will be powered by a custom-designed processor leveraging the latest Zen 2 and next generation RDNA architecture from AMD.
The console will deliver hardware accelerated ray tracing, Variable Rate Shading (VRS) technology and a next-generation SSD which Xbox says will virtually eliminate load times.
The system is twice as powerful as Xbox One X, according to Xbox boss Phil Spencer, who also announced the second Series X title at The Game Awards, Senua's Saga: Hellblade 2 by Ninja Theory.
Microsoft said in June 2019 that it plans to launch Halo Infinite alongside its next-gen console during the 2020 holiday season.
Xbox Series X exclusives from Microsoft aren't part of the platform holder's launch strategy for the console, according to first-party games boss Matt Booty.
While exclusive games have traditionally been key to driving console sales, he recently told MCV the company is keen to avoid alienating Xbox One owners by releasing platform exclusive titles during its new console's launch window.
True exclusives might not arrive until Xbox Series X's second Christmas on the market, Booty suggested.