'Xbox Series S' has seemingly been referenced again by a Microsoft product
The less powerful next-gen Xbox console has still not been announced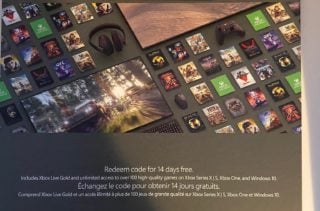 The unannounced, less powerful next-gen Xbox console has seemingly been referenced again on official Microsoft material.
A Twitter user claimed this weekend to have ordered an Xbox controller, which they said came bundled with an Xbox Game Pass code sheet (pictured above) which mentions "Xbox Series X | S".
If legitimate, it's the second time in the past month that official Xbox merchandise has referenced the unannounced console. In August, some consumers managed to get their hands on updated next-gen Xbox controllers, which reportedly reference Series S on their boxes.
As reported by multiple media outlets including VGC, the console codenamed Lockhart – or Series S, as it looks set to be called – is a less powerful version of Series X that will likely target cost-conscious consumers.
Lockhart development kits are understood to have been with studios for several months, with next-gen Xbox developers expected to support both Series X and Lockhart in a setup similar to the existing Xbox One X and Xbox One S consoles, and PlayStation 4 and PlayStation 4 Pro.
The yet-to-be-announced second next-gen console SKU is designed to appeal to cost-conscious players and will reportedly target 4 teraflops of computing power (compared to the 12 of Series X).
Although the system is reportedly less powerful than Series X, it's claimed Series S will still offer aspects of the next-gen experience currently unavailable to past-gen consoles, possibly in the form of faster SSD loading speeds and limited ray-tracing.
It was previously claimed that Lockhart would ship with a faster CPU, no disk drive and target 1440p gaming.
In July, Microsoft confirmed it would halt production of its Xbox One X and Xbox One S All-Digital Edition consoles, seemingly in preparation for the arrival of Xbox Series S.