Xbox pulls branding from YouTuber who posted racist and sexist content
Firm distances itself from Brazilian content creator Mil Grau following complaints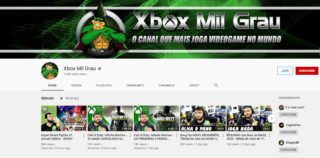 Xbox has moved to have its branding pulled from the social media channels of a popular Brazilian content creator who used his influence to promote racist, sexist and homophobic material.
The content creator in question is Xbox Mil Grau, who has a YouTube channel with 174,000 subscribers.
As detailed by ResetEra users, Xbox Mil Grau has used his social media channels to publish racist, sexist, homophobic and transphobic material.
ResetEra user The era of Luigi had been attempting to alert Microsoft to Xbox Mil Grau's behaviour since December 2018 without any luck—until now.
His efforts were seemingly rewarded on May 31 when a journalist brought Xbox Mil Grau to the attention of Xbox head Phil Spencer, who reportedly said he'd ensure the relevant teams investigated the allegations.
And today Xbox Brazil tweeted (via Google translate): "The content of the Mil Grau account does not reflect our fundamental values of respect, diversity and inclusion. We already demand the immediate removal of our brand from its channels, through social media companies."
[UPDATE JUNE 4: Twitch has banned Mil Grau following reports that he used his social media channels to air discriminatory views].
[UPDATE JUNE 5: The Xbox Mil Grau Channel has been permanently suspended from the YouTube Partner Program.
"With user complaints, we are aware of content on the XBOX Mil Grau Channel that violates our policies," YouTube said. "The videos have been removed and the channel is permanently suspended from the YouTube Partner Program.
"We thank everyone who alerted us and reinforce our rejection of all forms of prejudice."]
Original story continues: Xbox was one of many games firms to come out in support of anti-racism protests this week, which were sparked by the death of African American George Floyd while in police custody.
In statement published on its social channels, the platform holder said: "Xbox stands together with our fans, creators, colleagues, friends, and the entire African American & Black Community against systemic racism and injustice. We are proud to join with Microsoft in amplifying Black and African American voices."