Xbox boss praises a father's 'incredible' Switch mod for Adaptive Controller
Father creates mod so that his daughter can play Nintendo's console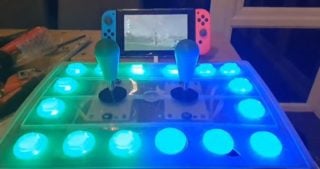 Xbox head Phil Spencer has praised a father who modified the firm's Adaptive Controller so that his daughter could use it to play Nintendo Switch.
British man Rory Steel, who is head of Digital Jersey Academy, created the controller using custom parts purchased from auction site eBay.
He then managed to match the various buttons and sticks to their respective inputs on the Xbox Adaptive Controller and connect it to Switch using a custom adaptor.
Xbox's Phil Spencer retweeted a video of Steel's creation, calling it "incredible."
Steel responded by thanking Xbox for its efforts in making games more accessible. "Accessibility isn't profitable but it is necessary," he said. "I, and all families like us thank you for your efforts. Keep up the good work."
The video of Steel's daughter Ava playing Legend of Zelda: Breath of the Wild has been viewed more than 500,000 times.
Released in 2018 and officially compatible with Xbox consoles and PC, the Adaptive Controller was designed to make gaming more accessible for those with limited mobility.
In May 2019, the World Intellectual Property Office published a Microsoft patent for an Xbox pad featuring braille input and output, suggesting the company could release a device for visually impaired players.