Xbox attempts its own 'used games moment' with a dig at PS5's cross-gen upgrades
Upgrading games to next-gen on Xbox as easy as 'buying the game'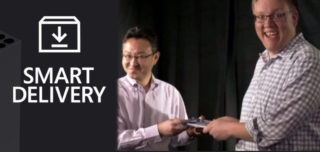 Xbox's UK Twitter account has boasted that upgrading current-gen titles to Xbox Series X and S is as easy as 'buying the game', in a tongue-in-cheek post likely referencing Sony's complex Spider-Man upgrade paths.
'Spider-Man' had trended in some Twitter regions on Wednesday, following Sony's clarification on how its upgrade paths will work for the upcoming Miles Morales game and its PS5 Spider-Man remaster.
Sony said that PS4 Spider-Man owners would not be able to upgrade to the PS5 remaster. However, those who buy Miles Morales will get the PS5 edition – but only the version without the remaster, unless they pay an additional fee.
The instructions left some fans confused and seemingly led to Xbox's UK social media team taking advantage with some light-hearted promotion of its Smart Delivery program.
"Here's a thread on how you can upgrade games to Xbox Series X | S with Smart Delivery in a few easy steps," the Xbox UK account wrote, followed by a reply simply reading: "just buy the game."
The post is evocative of Sony's famous used games video released ahead of PS4's launch, which poked fun at Microsoft's then-policy to block game sharing.
The 2013 video, which was published officially by PlayStation, clearly mocked Microsoft's platform policies, with executives Shuhei Yoshida and Adam Boyes demonstrating 'how to share PS4 games'.
Microsoft's Smart Delivery is an initiative which means players "only have to purchase a title once in order to play the best available version for whichever Xbox console they choose to play on".
This is separate from Xbox Series X backwards compatibility, which will run legacy games at current-gen or increased performance levels.
For PlayStation 5, Sony Interactive Entertainment has previously indicated that it is not promoting a unified free cross-generation upgrade program like Smart Delivery.
Instead, Sony has seemingly left such upgrade programs to the discretion of third-party publishers, with many titles including Marvel's Avengers, Cyberpunk 2077 and Destiny 2 choosing to offer pathways to their PS5 versions at no additional cost.
PlayStation will also implement special branding onto the boxes of cross-gen PlayStation 4 titles which offer a free upgrade to their PS5 versions.
Although Sony will reportedly not be actively promoting a cross-gen program, its stance on third-party developers is not unlike Xbox's, which allows studios to decide for themselves whether to support Smart Delivery or not.
Some companies such as Electronic Arts are running their own upgrade initiatives. Current-gen owners of games such as FIFA 21 and Madden 21 will be able to upgrade to PS5 via EA's Dual Entitlement scheme.