Xbox announces Beyond Xbox: Therapeutic Play, an initiative to aid recovery in children's hospitals
The campaign has kicked off with a short promotional film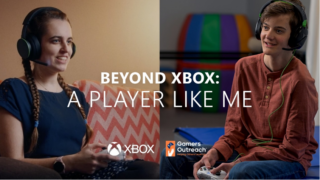 Xbox and Gamers Outreach have announced Beyond Xbox: Therapeutic Play, an initiative that aims to promote the benefits of gaming as an aid to help facilitate recovery and connection for children in hospitals.
The initiative aims to show how gaming can support children in hospitals, by providing them with a way to play and connect with friends and family.
Xbox has started the campaign with A Player Like Me, a short film that shares the story of 14-year-old Jordan from Michigan, who lives with a rare form of Ehlers Danlos Syndrome.
The film shows how Jordan met 23-year-old Megan from Inverness, Scotland, who has the same condition, through playing Forza Horizon 5 on Xbox.
Beyond Xbox: A Player Like Me
Ehlers Danlos Syndrome is a rare genetic condition that affects connective tissue.
In a blog post talking about the film, the pair reveal that they spent hours on the game together, learning about how the other deals with the condition.
"I'm not that much older than him, but I didn't know whether we would have anything in common," revealed Megan. "But it turns out we have quite a lot in common."
Despite having never met anyone with the condition in real life, the two were able to form a bond.
"It was really cool to see beyond Ehlers-Danlos that we share common interests and understand each other, more than just what are you going through," said Jordan in the blog.
"We talked about how sometimes you get medical advice, but at the end of the day you know your own body. You're the one who has to live with it," said Megan. "It's just nice talking to someone who understands.
"I think at the end of the day, it doesn't matter that they are a different age from you or they're in a different country. My friends or family are really supportive, but it's quite a difficult thing to understand if you've never experienced it."