Xbox and Adidas reveal their first sneaker collaboration fans can actually buy
The Xbox 360 Forum Mid will go on sale in the US and Canada on November 4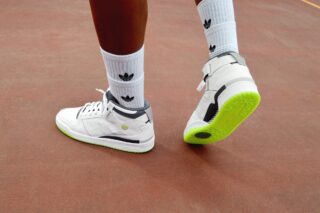 Microsoft has revealed the first-ever Xbox-themed sneakers available to purchase in the US and Canada.
Xbox announced in October that it had partnered with Adidas to create a series of sneakers designed to celebrate the console brand's 20th anniversary this month.
You can find Adidas' range of Forum shoes over on its official website.
At the time it revealed the first design from the partnership, which was inspired by the special edition release of the original Xbox console for the launch of Halo: Combat Evolved in 2001. However, the Xbox 20th Forum Tech sneakers weren't made available to purchase.
adidas Originals by XBOX - Xbox 360 Forum Mid
The second design, the Xbox 360 Forum Mid, was revealed today and will be available to buy in the US and Canada beginning this Thursday at 7am PT via the Adidas website.
Xbox consumer products marketing manager James Monosmith said of the limited release product: "On the strap, you'll note the Xbox 360 disc tray, along with the classic 360-era Xbox button design on the shoe's outer side and the console's air vents on the inner side.
"Additionally, the heel features references to the Xbox 360's distinctive removable hard drive and memory unit slots. There are a myriad of details to discover and enjoy, including some hidden secrets for fans."
The Xbox 360 Forum Mid will come with four additional pairs of laces in red, yellow, green, and blue – the same colours as the face buttons on the Xbox 360 controller. Microsoft's official announcement didn't confirm how much the sneakers will cost.
Microsoft will celebrate Xbox's 20th anniversary with a special digital broadcast on November 15. On the same day, it's also releasing the first limited edition Xbox Series X console and a limited edition Elite Series 2 controller.