WWE 2K20 patch coming in the next 2 weeks
2K 'working hard to address concerns' following bug-ridden launch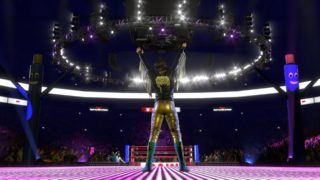 2K says it's working on several patches designed to address the numerous bugs afflicting WWE 2K20.
Players and critics have reported a significant number of bugs and glitches since the game released on Tuesday.
Extreme examples include fighters levitating, objects disappearing, faces falling off and bits of the ring flopping around.
VGC's WWE 2K20 review said the game is "hamstrung by huge technical issues".
After it was reported that PlayStation is issuing refunds for digital copies of the game following complaints from unhappy customers, publisher 2K responded to player "concerns" in a statement released on the WWEgames Twitter account on Friday evening.
2K said: "We are listening closely to the feedback that's been shared regarding WWE 2K20 and are aware of the concerns some players are reporting.
"We're working hard to investigate these concerns and address them as necessary. We expect to have an initial patch ready in the next two weeks, with others to follow. Stay tuned WWEGames social media channels for more information."
WWE 2K20 is the first series entry to be developed entirely by Visual Concepts. The former co-developer took charge following publisher 2K's split from veteran WWE studio Yuke's, as revealed by VGC.
Japanese studio Yuke's had been developer of mainline WWE titles for almost 20 years, having worked on the series since 1999's Smackdown for PSOne.
It's not clear why Yuke's stepped away from its role leading WWE 2K development. However, it did confirm in a VGC interview earlier this year that it was working on a new, original wrestling IP.