Wrestlequest, an RPG starring WWE Legends, has been announced
Booker T, Andre the Giant and more will feature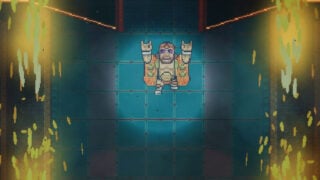 WresleQuest, a new RPG featuring licensed wrestling legends such as Macho Man Randy Savage has been announced.
Developed by Skybound Games and Mega Cat Studios, WrestleQuest will feature a roster of wrestling legends including some WWE Hall of Fame members.
WrestleQuest sees players assume the role of a young wrestler chasing his dream of making it to the big time, inspired by the legends that feature in the game.
The game features a pixel art style that is meant to evoke classic wrestling toys and action figures, according to its developer.
The game is coming to PC, Xbox, PlayStation and Nintendo Switch sometime this Summer.
Licensed wrestlers in the game include "Macho Man" Randy Savage, Booker T, Andre The Giant, Jake "The Snake" Roberts, Diamond Dallas Page, Jeff Jarrett and "many more" according to the developers.
This is notable due to the fact that most of the wrestlers currently announced for the game are under a "Legends" contract with the WWE. While this doesn't prohibit the wrestlers, or their estates, from participating in a game like this, it's likely that WWE would have had to be consulted before they were included.
While this was the case in the past, the terms of the "Legends" deal may have changed as Jake "The Snake" Roberts, while still a WWE Legend, is currently signed to its competition AEW.
"WrestleQuest captures the spirit and passion of wrestling, through the lens of an unforgettable RPG experience," said James Deighan, Founder of Mega Cat Studios.
"Many of the team at Mega Cat grew up watching wrestling and it holds an undeniable nostalgic place for us. This game is a celebration of that world, complete with special fully licensed appearances by some of our favourite wrestlers from the 80s, 90s and today."