Worms Rumble is coming to Xbox consoles and Switch in 2021
Team 17's series recently celebrated its 25th anniversary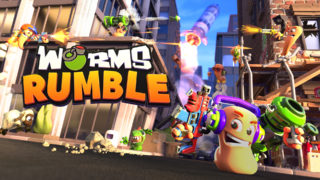 Team 17 will release Worms Rumble for Xbox Series X/S, Xbox One and Nintendo Switch in 2021.
The news was confirmed in the company's preliminary results for the calendar year 2020, which were released on Tuesday.
Worms Rumble was first announced in July 2020 and released for PS5, PS4 and PC last December, when it was also made available to PlayStation Plus subscribers at no additional cost during its first month of availability.
Featuring real-time combat and a battle royale mode, Worms Rumble supports up to 32-player, cross-platform multiplayer. It has Metascores of 68 (PC and PS4) and 70 (PS5) on review aggregation site Metacritic.
The iconic Worms franchise, which recently celebrated its 25th anniversary, has sold more than 75 million copies across numerous instalments, according to Team17.
"Incredibly, our Worms franchise is now twenty-five years old and in December we launched the franchise's newest title, Worms Rumble, on PlayStation 5," Team 17 CEO Debbie Bestwick MBE said on Tuesday.
"While we have all been delighted to see how well the game has taken to this new platform, I know many gamers, myself included, will fondly remember Worms' first iteration, developed for the Commodore Amiga and released in 1995.
"2021 will be a very exciting and busy year for Team17, with more games signed to our label than any time in our history and new IP launches to look forward to including Rogue Heroes, King of Seas, Narita Boy, Epic Chef, Super Magbot, Greak: Memories of Azur, Honey I Joined a Cult and Hokko Life with three new games still to be announced," Bestwick continued.
"Alongside these, Hell Let Loose is due to exit Early Access and launch on PlayStation 5 and Xbox X/S, Overcooked! All You Can Eat will launch on Nintendo Switch, PlayStation 4, Xbox One & PC and Worms Rumble will launch on Xbox X/S, Xbox One and Nintendo Switch."