Wolfenstein Youngblood review round-up: critics mixed on co-op spin-off
Bethesda shooter hits PC and consoles this week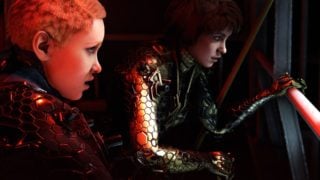 Wolfenstein: Youngblood reviews have started to go live across the games media, to coincide with the shooter's release on PC today and on consoles tomorrow.
In the reviews published so far, MachineGames' co-op spin-off has been mostly praised for its action and world design, while some critics were disappointed with the game's story and progression systems.
The Bethesda title is widely complemented for its value: the game's regular edition retails for $29.99 / £24.99, while the Deluxe Edition including a pass allowing another player to play costs $39.99 / £29.99.
See the full list of Wolfenstein Youngblood reviews so far below.
IGN (6.5) – "Wolfenstein: Youngblood is an aggressively okay co-op shooter that doesn't come close to recapturing the joy of its predecessor's action or its surprisingly interesting characters and story."
Destructoid (6) – "Youngblood makes plenty of strides forward for this series, but it also takes some steps backward that end up hurting the overall package."
Polygon (no score) – "It seems like it was designed as a relatively inexpensive crowd-pleaser of an FPS, and I will admit that I was very entertained."
PC Gamer (79) – "Youngblood's gorgeous, terrible world is worth exploring, despite a slight narrative and oppressively boring progression systems."
VG247 (no score) – "If you're looking for a bit of a mindless romp with a pal, it's worth ten hours of your time. It's coming out at a reduced price, and your friends can play with you for free even if you own a single copy between you."
Vice (no score) – "Youngblood is more like a spinoff than a sequel, even if it takes place after the events of the last two games. It has a different structure, tells a different kind of story, and barely worth playing if you're not playing with a friend."
Hollywood Reporter (no score) – "For a side-story that's not as fully realized as it could be, 'Youngblood' still manages to get the most important aspects — the gunplay, level design, and spectacle — right."