What time does Zelda: Tears of the Kingdom go live? Digital release time in your region
Find out when you can pre-download and play Tears of the Kingdom on your Switch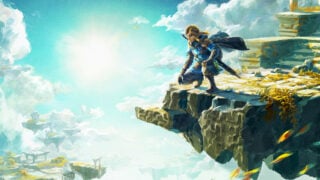 What time does The Legend of Zelda: Tears of the Kingdom go live?
That's the question many players are asking, especially those who have already pre-ordered the digital version of the game.
It's already possible to pre-download the entire game to your Switch console, but if you try to launch it you'll get a message telling you the game can't be played yet.
This article will tell you exactly when the game will go live in your region, so you can start playing the second you're able to.
---
Master Sword location | How to increase inventory space | How to increase hearts and stamina  | How to get warm clothes | Wingsuit location | Hylian Shield location | Duplication glitch
---
The Legend of Zelda: Tears Of The Kingdom – release date and time
The Legend of Zelda: Tears of the Kingdom will be released on Friday, May 12.
Anyone with a physical copy of the game can start playing it already, even if they somehow manage to get it before this date (for example, if an online retailer posts it out and it arrives a day earlier than expected).
If you pre-ordered a digital copy of the game, however, it should have already downloaded to your Switch.
You'll be blocked from playing it until the official release time, which differs in each region.
The game will go live at the following times:
North America East Coast – May 12 at 00:00 ET
North America West Coast – May 11 at 21:00 PT
UK – May 12 at 00:00 BST
Mainland Europe – May 12 at 00:00 CEST
Japan – May 12 at 00:00 JST
In other words, the game will generally go live at midnight on Thursday, May 11 at your local time zone, with some exceptions (the main one being the west coast of North America, which gets it at 9pm because the east coast will have already reached midnight).
Other Products
Some external links on this page are affiliate links, if you click on our affiliate links and make a purchase we might receive a commission.