WBIE: subscriptions won't spell the end of premium priced games
Lego publisher says streaming and traditional retail models can co-exist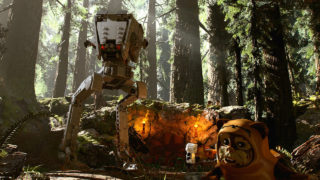 Warner Bros. Interactive Entertainment president David Haddad doesn't expect subscription services to spell the end of traditional game sales.
The rise of streaming technology has led to a proliferation of subscription services offering film and TV content, and the games industry appears headed that way too.
However, in a wide-ranging interview with VentureBeat, WBIE president Haddad said the way in which players consume video games is different to how they watch films and TV shows, with many only interested in buying several games each year.
"I'd be careful about the notion that streaming will automatically bring the entire business to a subscription model," he said.
"I do think that we've proven that a transactional business, as we call it, where you pay a premium price for an experience, where gamers can have 30, 40, 100 hours of play–they'll pay a premium price for that. That's great for us. We have a history of that transactional business.
"There are gamers that want to consume way more than two or three games a year, which is sort of an average right now," Haddad continued. "There may be people that like the consumption pattern of having a subscription so that they can try more games and play more games.
"But the behavior today is actually fairly concentrated on players spending most of their time in a handful of games that they carefully pick and that are able to secure a premium price in the market. I think it'll be a mixture of both."
At E3 this month, Ubisoft announced plans to launch its own subscription service, while Square Enix is considering doing likewise.
EA was a frontrunner in the field, launching its EA Access subscription service in 2014.
Discussing the impact of cloud technology in a recent interview with GameDaily.biz, EA CEO Andrew Wilson noted: "The advent of cloud has pretty much been at the center of every disruption of every major industry on the planet over the last five years.
"The disruption is typically driven across all industries toward access over ownership. Once you get to an orientation of access over ownership, the business model that has risen to the top mostly is subscription.
"It's not the only business model," he added, "but because of the disruption that cloud creates, the natural run-on effect is that subscription is typically the best business model to account for that fundamental shift in behavior."
Related Products
Other Products
Some external links on this page are affiliate links, if you click on our affiliate links and make a purchase we might receive a commission.