Watch over an hour of Lego Star Wars The Skywalker Saga gameplay
Check out the new and improved Lego Tatooine, Death Star and more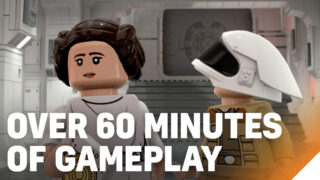 Following VGC's preview of Lego Star Wars: The Skywalker Saga, we're now able to show off over an hour of gameplay footage from our demo.
Conducted last week, we got a chance to play the game for an hour on PC. We had access to Episode IV: A New Hope, and during our demo, we managed to venture as far as the Death Star's famous trash compactor.
You can watch the full video in our embed here:
Lego Star Wars: The Skywalker Saga - 60 minutes of gameplay
In our preview, we called Lego Star Wars: The Skywalker Saga "an incredibly celebratory last dance for one of the most celebrated licensed franchises in gaming".
Featuring levels based on all nine of the Star Wars films in the main saga, Lego Star Wars: The Skywalker Saga is the largest game in the franchise by a significant amount. Not only does the new game feature levels in the traditional Lego game sense, but also several mini-open hub worlds which allow players to meet characters from around the galaxy and take part in side quests.
While we spent most of our time progressing through the story, it's clear that there's an abundance of things to do if you want to take a breather between iconic moments in Star Wars.
In what might come as a disappointment to fans, although they're incorporated in references, the spin-off films such as Rogue One and Solo won't feature as full levels in the game. The hugely popular Disney + shows like The Mandalorian also won't have levels of their own, but both The Mandalorian and Grogu will make an appearance later as DLC.