Watch Battlefield 2042's short film 'Exodus', which sets the scene for the game
EA plans to tell 2042's story outside of the game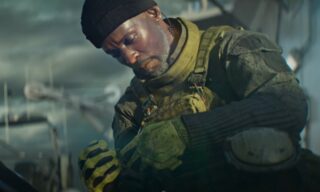 EA has published a short film detailing the lore behind Battlefield 2042.
Exodus provides a closer look at what started the game's No-Pat Civil War, as well as introducing its cast of playable No-Pat characters.
That includes Battlefield 4's Kimble "Irish" Graves, played by Michael K. Williams, who returns as a playable No-Pat Specialist in 2042. Exodus also introduces "Oz," who clashes with Irish over the future of the No-Pats.
With no traditional campaign planned for 2042, EA says the game's narrative will be told in a new way for the franchise via more "Specialist stories".
"The narrative will continue to evolve over time as more Specialists join the conflict, each with their own story to tell, and pull players deeper into the world and lore of Battlefield 2042," EA said.
Irish is the fifth Specialist to be revealed for Battlefield 2042, with five more set to be announced in the coming weeks, totalling ten Specialists at launch.
Battlefield 2042 is scheduled for release this October, almost three years after the November 2018 launch of the previous series entry, Battlefield V.
The multiplayer-only game will support 128-player battles on "massive-scale" maps filled with dynamic weather and other environmental hazards, although the Xbox One and PS4 versions will be capped at 64 players and include reduced map sizes.
2042 introduces Specialists, a new type of playable solider. Inspired by the four traditional Battlefield classes, they will be equipped with their own unique Specialist Trait and Specialty and will have fully customisable loadouts.
For further info, click over to our full Battlefield 2042 details report.