Warzone's King Kong and Godzilla event gets full details and launch trailer
Take on the titans from May 11-25 in Operation Monarch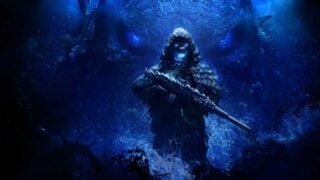 Activision has detailed Call of Duty Warzone's upcoming Operation Monarch event, which will see King Kong and Godzilla unleashed on Caldera.
Running from May 11-25, the limited-time mode challenges players to evade Godzilla's Heat Ray breath and Kong's smashing fists while striving to be the last team standing.
Operation Monarch offers 60-player matches with a Resurgence rule set. Players need to collect Monarch Intel from Supply Boxes, special drops and fallen enemies, or by dealing damage to the titans, who will be roaming the island.
Monarch Intel is used to charge a meter that unlocks items like Loadout Drops and Killstreaks, including a powerful Titan Killstreak when it's full.
While the monsters aren't too aggressive in their normal state, they become very dangerous during a Titan Frenzy. The team that deals the most damage to either monster during a Titan Frenzy receives a special device that lets them unleash the power of Godzilla or Kong against opponents.
Call of Duty Warzone and Vanguard Season 3, which is called Classified Arms, launched on April 27.
It includes a new point of interest, significant changes to several other areas of Caldera, a new Gulag and a fresh Contract, among other features.
The new point of interest is Dig Site. Featuring abandoned excavation machines and equipment, tents and massive skeletons, it's located between Mine and Ruins.
Runway, Peak and Lagoon were also updated ahead of the launch of Operation Monarch.
The rebuilt Peak offers increased accessibility to the stronghold buildings, the mountaintop and the dormant volcano via new tunnels, ascenders and staircases.
Runway includes new barracks, hangars and other structural additions, while a receding tide at Lagoon offers a new sandbar, paths and cover.
Related Products
Other Products
Some external links on this page are affiliate links, if you click on our affiliate links and make a purchase we might receive a commission.