Warzone video shows 'unreleased Blackout map' set in the Ural Mountains
Featuring locations such as Zoo, Ruka, Mines, and Sanatorium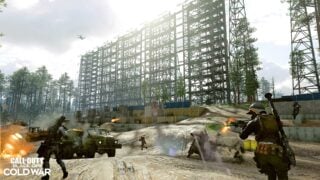 Gameplay footage of what is claimed to be an unreleased Call of Duty battle royale map has been published online.
The eight-minute video, which was released by a group of Call of Duty leakers called Cheezburgerboyz, shows footage of a previously leaked Ural Mountains map said to be designed for either Blackout 2.0 or Warzone.
As spotted by Dextero, the video shows a player running through the map picking up loot in a similar manner to how it worked in Blackout, Call of Duty: Black Ops 4's battle royale mode.
It also shows various preciously leaked locations including Zoo, Ruka, Mines, and Sanatorium.
Cold War and Warzone Season 3 launched on April 8. Notably, the battle royale game introduced an updated map, Verdansk 84, while Duga, a Black Ops Cold War map set in the Ural Mountains, was released for the game's Fireteam and Outbreak modes.
Cold War and Warzone Season 3 Reloaded arrived in late May, with the mid-season update adding a host of new content as part of its '80s action heroes event featuring Rambo and Die Hard.
Warzone guides:
Call of Duty Vanguard release date | Call of Duty: Warzone's new Pacific map | Best Warzone loadout | Warzone Red Doors | Warzone best sniper | Warzone best SMG  | Warzone best Stoner 63 | Warzone best AK-47 | Warzone best Bullfrog | Best FARA Warzone loadout | Best AMAX Warzone loadout
Black Ops Cold War and Warzone Season 4 will be revealed on Thursday. The world premiere of the new Call of Duty season will take place during Summer Games Fest's Kick Off Live event on June 10.
Last week, Warzone developer Raven teased "a great deal of enhancements" coming to all Black Ops Cold War optics and reticles in Season 4.
"Coupled with some exciting attachment changes, we feel the landscape of long-range viable weapons will soon be as diverse as it has ever been," the studio said.
Activision has established a new internal studio "dedicated to developing the best AAA mobile games in the world", starting with a fresh entry in the Call of Duty series, according to newly discovered job adverts.