Warzone Pacific Season 3 dated with possible Godzilla and King Kong tease
'Classified Arms' launches in late April for Warzone and Vanguard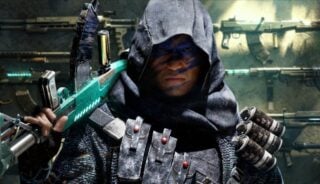 Call of Duty Vanguard and Warzone Season 3 has been dated with a trailer that may tease the arrival of giant monsters in the battle royale game.
The cinematic trailer, which is viewable below, warns of the impact of Nebula bombs—a weapon introduced in Season 2—being released by the Nazis.
"But what none of us knew was that a storm was on the horizon," says the narrator. "With Nebula, the Nazis had unwittingly shaken something awake, something far more powerful and fearsome than anything we could ever hope to comprehend."
Season Three 'Classified Arms' Cinematic | Call of Duty: Vanguard & Warzone
The trailer concludes with a device broadcasting a mysterious frequency, which was also promoted on the Call of Duty Twitter account, which challenged fans to perform further spectral analysis.
One user responded, saying they'd used digital audio editing and recording software Audacity to check it and that the message appeared to say 'monsters are real'.
In February, reliable industry insider Tom Henderson reported via Xfire that King Kong and Godzilla could be arriving in Warzone this year.
He described two pieces of Warzone concept art he'd seen featuring the famous monsters, one showing King Kong swatting a WW2 plane out of the sky and another showing Godzilla firing a bright blue ray at soldiers.
Call of Duty Vanguard and Warzone Season 3 will launch on April 27.