Warzone Operation Monarch leak reveals Godzilla and King Kong are coming in May
UPDATE: The famous movie monsters are officially headed to Caldera next month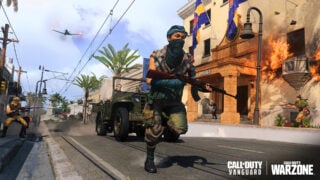 Plans to unleash Godzilla and King Kong in Call of Duty Warzone have seemingly been all but officially confirmed.
They'll be added to the game on May 11 as part of 'Operation Monarch', according to reliable PlayStation patch tracker PlayStation Game Size.
Leaked artwork for the in-game event shows the iconic movie monsters towering over Warzone's Caldera map.
PlayStation Game Size, which monitors the PlayStation Network for new applications being added to the service, also said Warzone's full game size will decrease with update 1.57.
UPDATE: Activision has confirmed plans to introduce Godzilla and King Kong next month with an Operation Monarch cinematic trailer:
Call of Duty: Warzone - Season Three Operation Monarch Cinematic Trailer | PS5 & PS4 Games
ORIGINAL STORY CONTINUES: In February, reliable industry insider Tom Henderson reported via Xfire that King Kong and Godzilla could be arriving in Warzone this year.
He described two pieces of Warzone concept art he'd seen featuring the monsters, one showing King Kong swatting a WW2 plane out of the sky and another showing Godzilla firing a bright blue ray at soldiers.
Season Three 'Classified Arms' Cinematic | Call of Duty: Vanguard & Warzone
And last week, publisher Activision dated Call of Duty Vanguard and Warzone Season 3 with a trailer seemingly teasing the arrival of the giant monsters in the battle royale game.
The cinematic trailer, which is viewable above, warns of the impact of Nebula bombs—a weapon introduced in Season 2—being released by the Nazis.
"But what none of us knew was that a storm was on the horizon," the trailer's narrator says. "With Nebula, the Nazis had unwittingly shaken something awake, something far more powerful and fearsome than anything we could ever hope to comprehend."
Call of Duty Vanguard and Warzone Season 3 will launch on April 27.