Warner is reportedly making a Smash Bros. style game with Batman and Gandalf
Fred Flintstone, Shaggy and more are said to be among the playable characters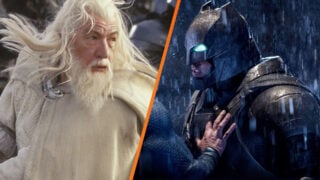 Warner Bros. Games is reportedly working on a Smash Bros. style fighter called 'Multiversus' featuring characters from its various IPs.
That's according to a Reddit report corroborated by journalist Jeff Grubb. Further credibility was given to the claims following the discovery of a trademark filing by Warner Bros, which was registered last month, for the name Multiversus.
The Reddit post claimed this weekend that the game was being handled by Mortal Kombat developer NetherRealm Studios, is based on Super Smash Bros and is a 'tag team' game (though the poster wasn't clear on what this meant).
Grubb confirmed on Twitter that he was aware of the project and that it was "real", adding: "But it is not a NetherRealm game. Come on."
---
MultiVersus Guides
MultiVersus characters | MultiVersus tier list | MultiVersus Guide | MultiVersus unlockables guide | Finn MultiVersus guide | Garnet MultiVersus guide | Iron Giant MultiVersus guide | LeBron James MultiVersus guide | Reindog MultiVersus guide | Superman MultiVersus guide| MultiVersus Gizmo guide
---
The reporter had claimed in August that NetherRealm was already working on Mortal Kombat 12, prioritising it over its DC superhero series Injustice due to uncertainty over its future with parent company WB Games.
According to the Multiversus claim, the list of characters in Multiversus includes:
Shaggy (Scooby-Doo)
Gandalf (The Lord of the Rings)
Tom & Jerry
Batman
Fred Flintstone
Mad Max
Johnny Bravo
The leak claims that one of the inspirations for the game was an 'Ultra Instinct Shaggy' meme, in which fans designed Shaggy from Scooby-Doo to look like he was in Dragon Ball.
Warner Bros then added Ultra Instinct Shaggy to the opening titles of its animated movie Mortal Kombat Legends: Battle of the Realms.
The leak suggests that rather than put Shaggy in Mortal Kombat, Warner Bros liked the idea of putting him in a different Smash Bros style game with other characters it owned.
Warner Bros has mixed its IPs a number of times in the past. Lego Dimensions, which was published by Warner Bros Interactive, combined numerous characters from various WB franchises including The Lego Movie, Batman, The Lord of the Rings, Harry Potter, Scooby-Doo, Gremlins, The Goonies and Beetlejuice.
The recent movie Space Jam: A New Legacy, also centred around the idea of the Serververse, a world set inside Warner Bros Studios' servers containing all its universes and characters.
Over the course of the movie, worlds from numerous other Warner Bros properties are visited including Austin Powers, The Matrix, Casablanca, Mad Max and the DC Universe.
Related Products
Other Products
Some external links on this page are affiliate links, if you click on our affiliate links and make a purchase we might receive a commission.