Walmart to exclusively sell new 'Mario Red' Switch bundle in US
$299 package also includes $20 eShop credit and special edition carry case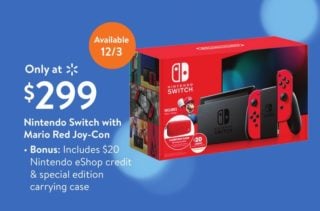 Walmart will be the exclusive stockist of a new Nintendo Switch hardware bundle beginning this Tuesday, December 3.
According to a Walmart advert spotted by Twitter user Wario64, the $299 Nintendo Switch bundle will come with Mario Red Joy-Cons, $20 eShop credit and a special edition carry case.
So far the Mario Red Joy-Cons have only been available via a previous Mario Odyssey hardware bundle. In Japan, the Joy-Cons are available separately.
On Monday a group of analysts suggested that Nintendo Switch may have a prolonged life cycle during which it surpasses Wii's sales total of 102.63 million units.
Nintendo launched the portable only Switch Lite console in September, following the release of an updated flagship Switch console featuring extended battery life in August. There have also been persistent rumours that Nintendo will launch an upgraded Switch console mid-cycle.
The platform holder recently said it hopes to continue selling the Switch family of consoles for as long as possible and that it has no plans for a Switch price cut.
Following the publication of the company's most recent financial results in October, Nintendo president Shuntaro Furukawa told investors: "We want to maintain the value of our products and sell them at their current price points for as long as possible, so we have no plans to reduce prices at this time."
Nintendo of America's Switch Black Friday deals included a console bundled with a Mario Kart 8 Deluxe download code for $299.99.