Vin Diesel will star in the Xbox exclusive sequel to Ark
Fast and Furious star appears in debut trailer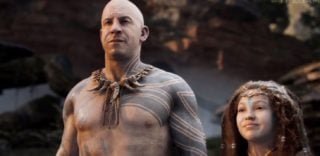 Vin Diesel will star in a sequel to Studio Wildcard's Ark: Survival Evolved.
Ark 2 debuted during The Game Awards on Thursday, with a video showing the Fast and Furious actor battling dinosaurs and tribal enemies.
Xbox marketing manager Aaron Greenberg later confirmed that the game will be exclusive to Xbox Series X/S.
The original Ark is played from either a third-person or first-person perspective and features an open world which can be navigated on foot or by riding a prehistoric animal.
Wildcard co-founder Jesse Rapczak told GI.biz last year that the studio had been "restructuring our plans and teams" for Ark 2, in a way that ensured it could still create new content for the millions users playing the original.
"For Ark 2, we need to give players something new that they're not getting from Ark," Rapczak said.
"We're not quite sure what that is yet, we're not ready to talk about it, but we want to be unshackled from what Ark: Survival Evolved is and not have to worry about ruining players' long history of dinosaurs and bases they've had for four years by making changes.
"That's just a lot of baggage when you're going to go make a sequel, and it also frees us up to do new things with the IP, go in different directions like you can see with Genesis.
He added: "We'll come to a cool idea for us about what the next step beyond Ark: Survival Evolved is, or what's next for the survival genre.
"We don't want to put Ark 2 out there until we can answer those questions and people can see a clear difference between Ark and Ark 2. Maybe a couple of years down the road. We'll see."