VGC partners for UKIE's UK Game of the Show and EuroPlay at Gamescom
Annual games contests return later this month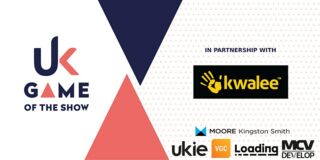 VGC will be the consumer media partner for UKIE's UK Game of the Show and EuroPlay games contest at Gamescom 2021, the pair have announced.
Ukie, the trade association for the UK's games and interactive entertainment industry, will hold the digital events on Tuesday, August 24 and Thursday, August 26, and you can register to watch them live now.
The UK Game of the Show will see 15 UK based games studios compete in a live showcase for the UK Game of the Show award.
The award is designed to showcase the creativity and skill of UK developers by highlighting UK developed, as yet unreleased games to publishers, investors and the media.
The winner of UK Game of the Show will then progress to represent the UK in EuroPlay games contest.
This live event will follow the same format as its UK equivalent and will bring together some of the best developers from Europe to compete for the prize of EuroPlay Video Games Contest winner.
Voting will be undertaken via a combination of a judging panel and public voting at the end of the showcase.
Gamescom 2021 will be an all-digital event for the second year running. Once again, the digital event will kick off with journalist Geoff Keighley's Gamescom: Opening Night Live show on Wednesday, August 25, ahead of the main event days on August 26 and August 27.