VGC is partnering with Stak for a weekly video game news podcast
Episodes of VGC: A Video Games Podcast will be available weekly starting this Thursday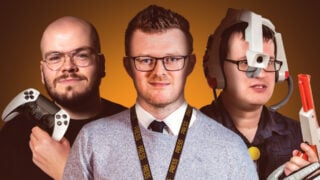 VGC is delighted to announce the launch of a brand new video game news podcast with award-winning podcast company Stak.
VGC: A Video Games Podcast episodes will be available weekly starting this Thursday, February 23, hosted by VGC's Jordan Middler, Chris Scullion and Andy Robinson, and broadcaster Pete Donaldson, featuring regular special guests from across the games industry.
Founded in 2018, Stak produces some of the UK's biggest shows, including Football Ramble, JaackMaate's Happy Hour and Abroad in Japan, and draws millions of downloads every month around the world.
In 2022, Stak and its shows were nominated for eight awards and won Silver for Best Network and Best Sports Podcast at the British Podcast Awards.
VGC editor, Andy Robinson said: "Expanding our reporting to the podcast space is well overdue, and we couldn't hope for a much better partner than Stak – a company behind huge shows that I'm personally a big fan of.
"We plan to deliver one of the most insightful video game news shows around, with weekly exclusives and insight from the VGC team and games industry experts. There will likely be more than a few entertaining anecdotes on what it's like to cover the games industry too. "
Stak's Pete Donaldson added: "We've been looking for the opportunity to work on a proper, grown up video game show for a while now – and VGC are the best in the business. Can't wait to get started on Thursday!"
You can subscribe to VGC: A Video Games Podcast now on iTunes, Spotify, Amazon Music and more.