Vehicles on Warzone's Rebirth Island disabled after players discover Golden Vaults glitch
Players found an unintended way to gain access to the mysterious locations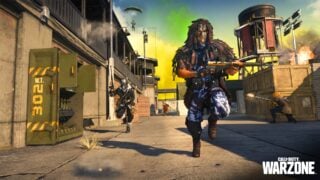 Call of Duty Warzone developer Raven Software has temporarily removed vehicles from the game's Rebirth Island map.
It said on Monday that it had taken the measure while it looked into an unspecified problem.
It's widely believed that vehicles have been disabled because players had uncovered a way to glitch into Golden Vaults (see video below), which are mysterious locations containing high-level loot.
"We have temporarily disabled vehicles on Rebirth Island while we investigate an issue," Raven said on Monday.
The vaults were only officially made accessible today following the completion of a community challenge, although players are still required to locate a series of in-game items in order to gain access codes.
Call of Duty Vanguard & Warzone Season 2 Reloaded gameplay trailer
Raven has had to temporarily disable Warzone vehicles on a number of previous occasions in order to combat bugs, including invisibility glitches.
Developers at the studio seeking to unionise are to be excluded from an upcoming pay rise for Activision Blizzard's quality assurance workers.
Last week, the publisher announced that all of its US-based QA testers will be converted to full-time employees beginning in July.
The employees will also receive a wage increase to a minimum of $20 per hour.
However, this won't apply to the QA testers at Raven who have been fighting for improved working conditions at the company since last year.
This is "due to legal obligations under the National Labor Relations Act," according to Activision Blizzard.