Valve says Steam Deck OLED isn't the next-gen Steam Deck 2, which is still 2-3 years away
The newly announced OLED handheld is an upgrade of the first-gen Steam Deck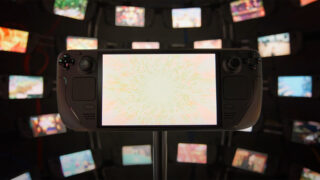 Valve has reiterated that its next generation Steam Deck handheld is still a few years away, despite today's announcement of a new OLED model.
The Steam Deck OLED will replace the launch version's 7″ LCD screen with a new 7.4″ OLED one, delivering brighter colours and darker blacks while also supporting HDR.
It will also improve other components, including a longer battery life, an upgrade from Wi-Fi 5 to Wi-Fi 6E, improved thermals and a larger fan, and will weigh 30g less than the standard Steam Deck.
It will be available in 512GB and 1TB versions, with the old 64GB and 512GB LCD models being phased out and only the 256GB LCD model remaining as the new base level option.
However, despite the clear upgrade over its predecessor, Valve has made it clear to Bloomberg that the Steam Deck OLED is merely that – an upgrade – and not the true 'next generation' Steam Deck it's been discussing in recent months.
According to Bloomberg's report, Steam Deck product designer Lawrence Yang says the team is still working on a 'Steam Deck 2', which will feature a "next-generation" upgrade in power, but that it still won't be available for "at least two or three years".
Yang's comments match those of Valve coder Pierre-Lou Griffais, who told The Verge in September that Valve wasn't expecting to release a next-gen successor to the Steam Deck "in the next couple of years".
"It's important to us that the Deck offers a fixed performance target for developers, and that the message to customers is simple, where every Deck can play the same games," Griffais told The Verge at the time.
"As such, changing the performance level is not something we are taking lightly, and we only want to do so when there is a significant enough increase to be had. We also don't want more performance to come at a significant cost to power efficiency and battery life.
"I don't anticipate such a leap to be possible in the next couple of years, but we're still closely monitoring innovations in architectures and fabrication processes to see where things are going there."
The Steam Deck OLED will be available from November 16, at a price of $549 / €569 / £479 for the 512GB version and $649 / €679 / £569 for the 1TB version.
The 256GB LCD version of the handheld will remain available at a reduced price of $399 / €419 / 349, while the 64GB LCD and 512 LCD models will be phased out once all stock is sold.